2022 was a solid year for Battle Box staples and today I'll be counting down my Top 8 favorite designs that I've included in my big stack from the past year.
Battle Box (and my stack, Danger Room Cube – all Cubes for that matter) are interesting deck building exercises because unlike most other formats the objective is balance that creates a matrix that is the most fun and dynamic play experience for all the players. When we build decks for other formats (Pioneer, Modern, or even Commander in many cases) we typically assess which cards will make our deck more or less powerful and in most cases aim to improve the power level of our decks with our card choices.
When building a Battle Box, Cube, or hybrid of both the goal is that everybody playing the stack will have the most fun. While "fun" is a subjective term, there are some universals in Magic we tend to agree facilitate fun games; for instance, games where neither player is mana screwed or mana flooded!
Battle Box fixes this problem right off the bat by ensuring both players will make their first ten land drops in a row and always draw a spell from the big stack of shared cards. Kyle does a great job of breaking down the basics of Battle Boxing and shares his wonderful stack in his recent article: https://riwhobbies.com/intro-to-the-boggemes-battle-box/
One of the things I love about Battle Boxing (aside from the fact that I created it and it's sort of my legacy in MTG!) is that the objective of building and tuning a stack is always FUN. Whether you are Battle Boxing with my stack, Cube drafting it, or Commander Cubing with it I spend a lot of time working on creating the most fun and exciting balance of cards that play well together. From a MTG Writer perspective it's also a blast to get to cover the game in such a way as I'm writing about what I think are the most fun ways to create dynamic games for us and our friends to enjoy.
Without further adieu, let's get to my top 8 favorite cards for Battle Box / Danger Room Cube in 2022. I'd also go so far as to say that since I choose cards based on how fun they are to play with my favorite cards of all time that these are my favorite designs of 2022 overall without being limited by the powerful context of needing to compete with more powerful Mythics and Planeswalkers in more competitive formats. These are all cards I'd be super excited to have in my Limited decks which is sort of the power level I aim to recreate with my Danger Room Cube stack: A+ for awesome limited decks.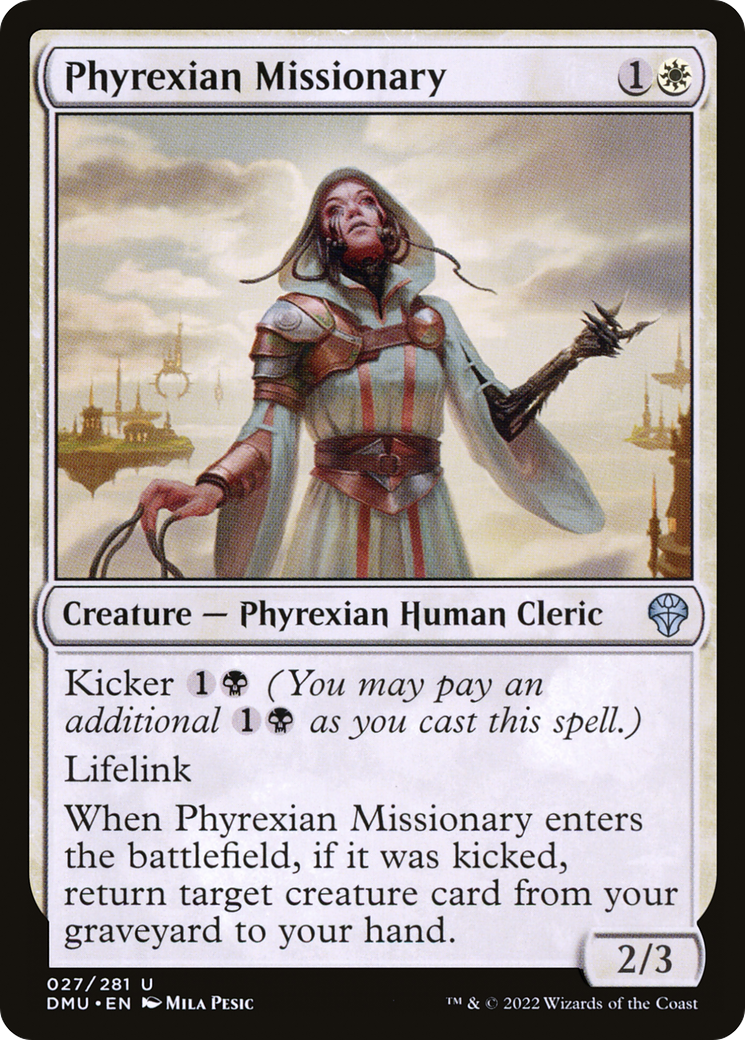 I love the design of this card. On the one hand, it's a beefy gravedigger variant, but splitting the cost of gravedigging in half as a Kicker cost actually gives Missionary a ton of flexibility (not an innuendo, LOL). Especially, when we are on the draw and facing down pressure there are a lot of cases where a ⅔ Lifelink is a fantastic 2 drop to help stabilize the board and bridge the way into the midgame. I like that the card is useful early on curve as well as in the later stages of the game.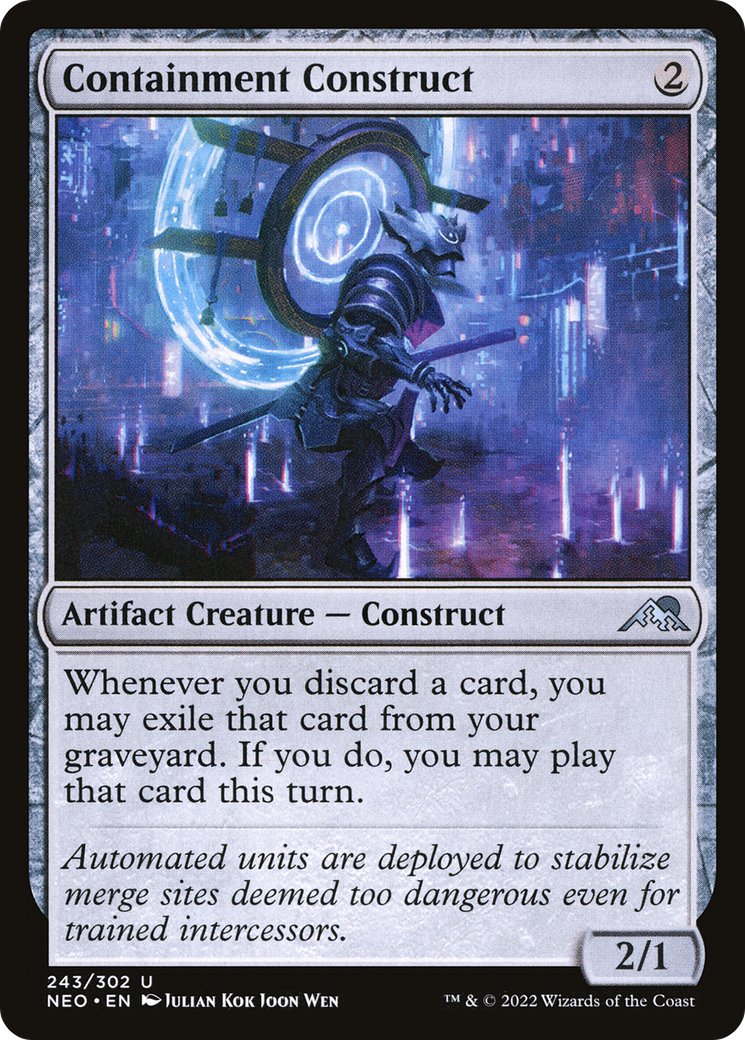 I'm a big fan of including lots of discard effects (particularly looting) in a Battle Box stack to help smooth out draws andContainment Construct helps create additional synergy with self discard by granting them pseudo 'madness.' It's also a cool effect to see on an artifact for the Cube variant of my stack since any color can utilize it. It definitely did some work for me teamed up with Psychatog last time I played!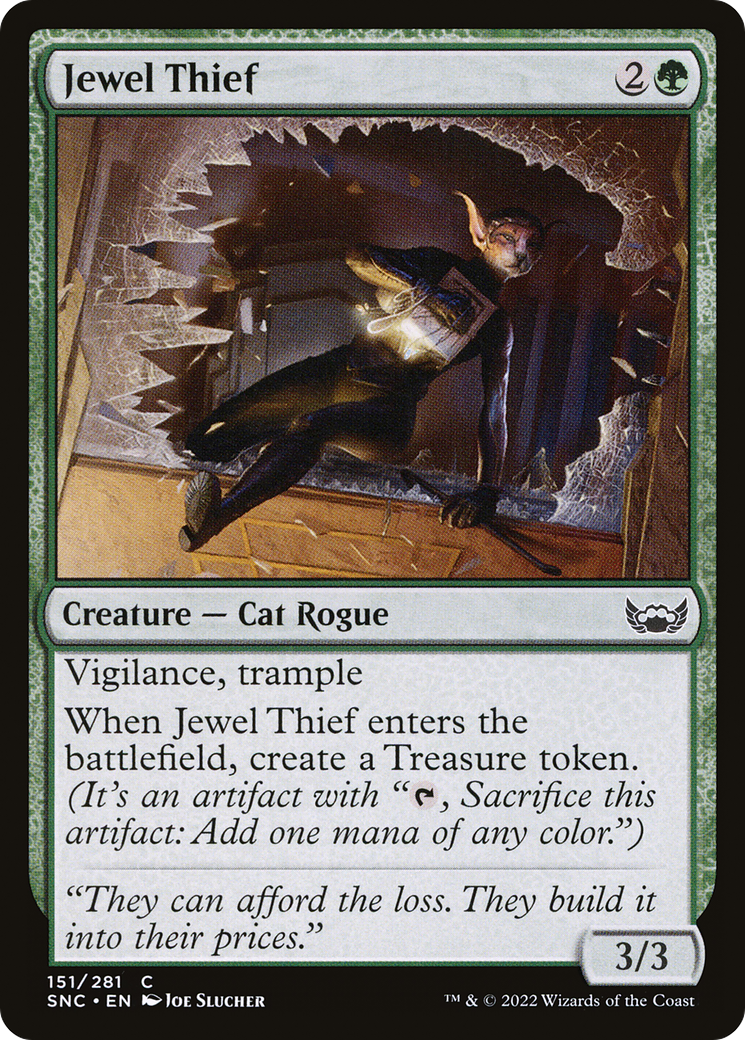 I've been tinkering around with adding some mana related cards to my Battle Box specifically to help fix mana in Cube games and Jewel Thief is the gold staple of a mana card that I really like in the stack. Treasure is a nice Battle Box mechanic because it's not overpowering like a Signet on turn two ramping a player a full turn ahead. Treasure also provides nice color fixing in a Battle Box Cube where the emphasis of one's spells isn't really on mana. From a design perspective, I really like the Treasure token attached to a decent three drop creature. Trample and Vigilance also make the creature portion of the spell a useful attacker and blocker in combat oriented games.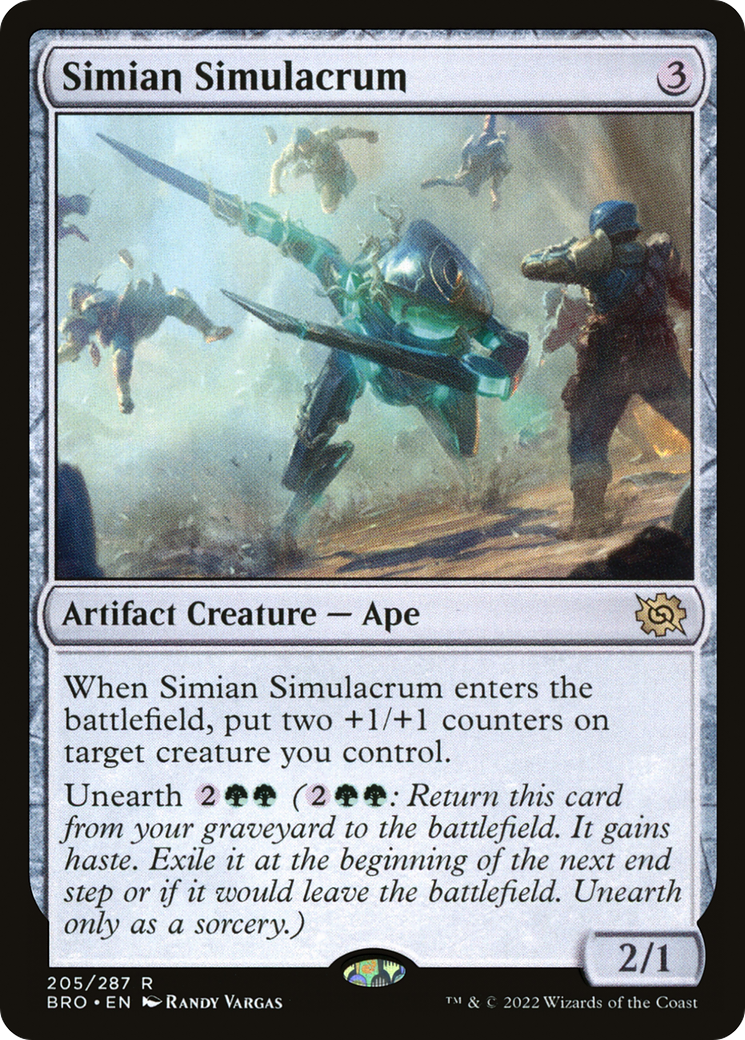 It's often difficult to find cards to fill out Artifact slots in my stack because they tend to be underpowered in a metagame where color fixing is free and my power level is defined by gold spells, but adding color Unearth costs to Artifacts created some really cool designs in Brothers War.
Simian Simulacrum is my favorite of these designs and I love how the card facilitates a lot of aggression in play patterns while also having a grindy element to it as well. I had Sad Monkey Robot in a 3-0 draft deck and I just knew after playing with it that it'd make a great addition to my Danger Room.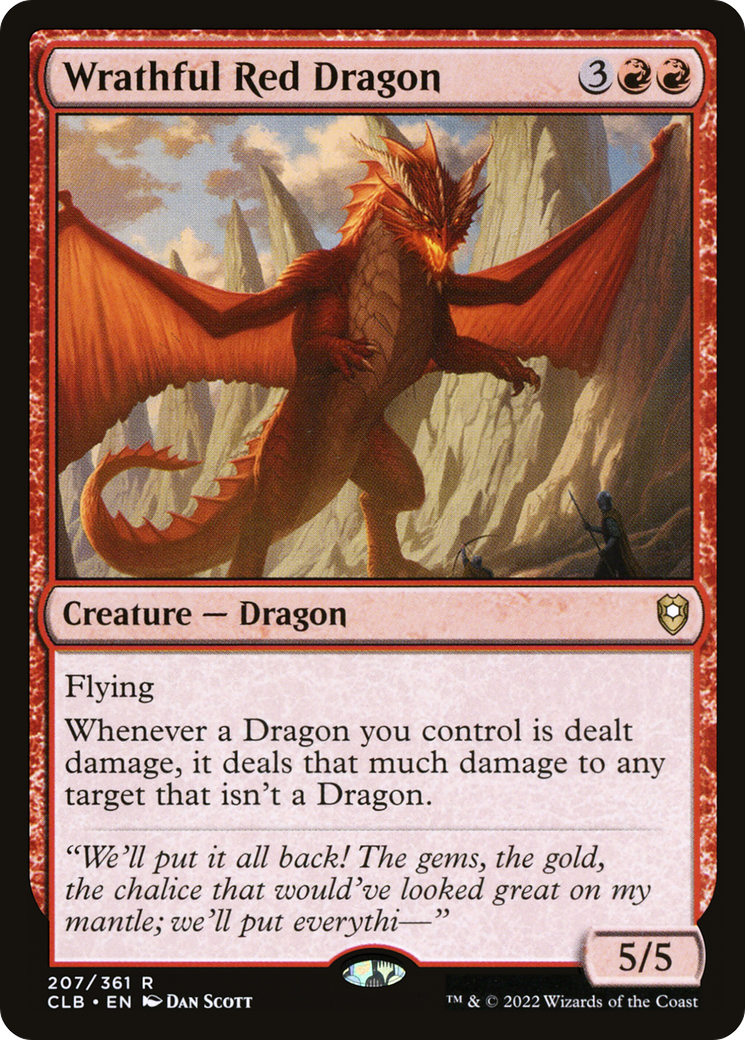 I love everything about the design of the card from art, to flavor, to stats, and even the name. It's just a flavor win for me all around and a very fun card to play with. It very much feels like a WRATHFUL RED DRAGON!
I'll also say I think it's objectively one of the most powerful cards that can be drawn in my stack, but hey something has to be the best and if you're playing a format where Wrathful Red Dragon is one of the marquee cards it's probably a pretty good time! It's a great homage to one of my favorite cards of all time, Shivan Dragon.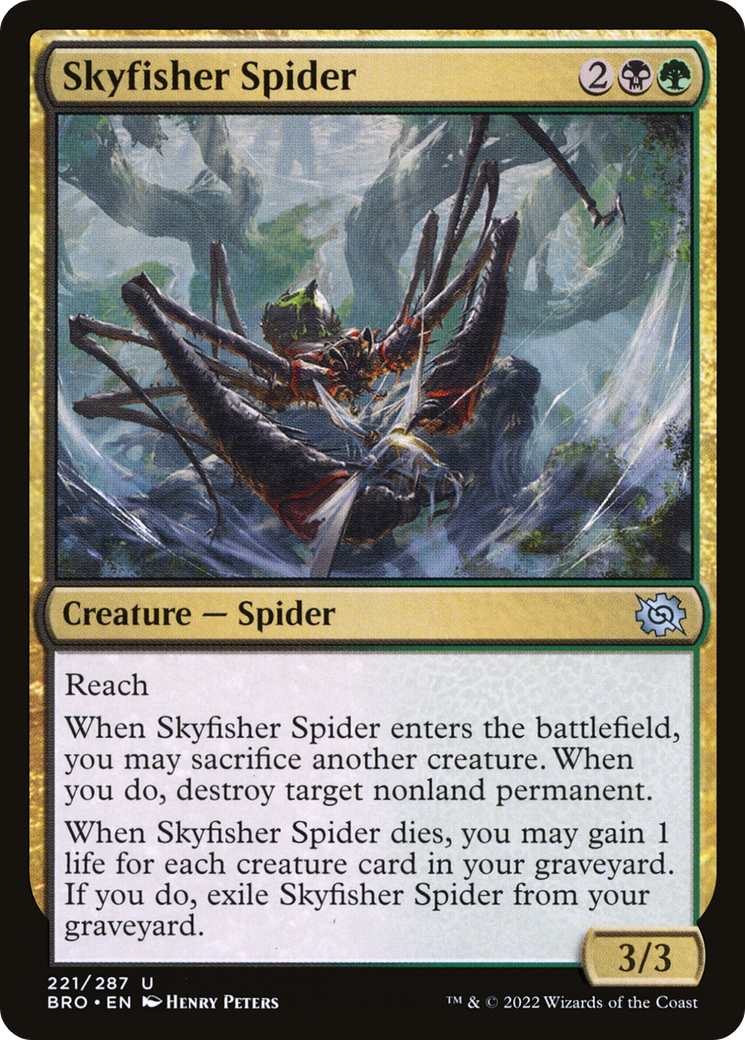 I love the design of this card. I like that it requires a sacrifice in order to destroy the target nonland permanent card. One thing I recently rebalanced in my stack was limiting the amount of cards that interact with Artifact and Enchantment types directly, it's really a premium effect now showcased on a card like Skyfisher Spider.
I'm also a fan of creatures that can block well in combat like Spiders with Reach, and its leaves play ability is quite useful as well. I'm not typically a fan of cards with a ton of text but I think everything on Skyfisher Spider works together well (including its flavor),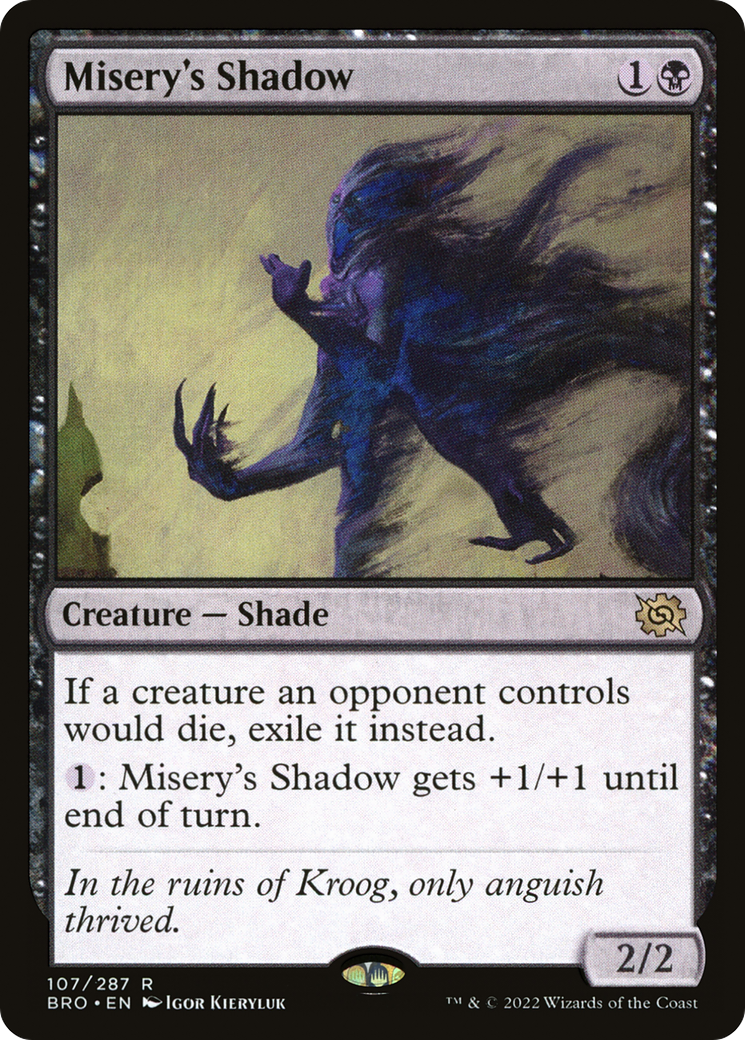 A little homage to Nantuko Shade with a big flavor! Battle Box is a five color experience and so a card like Nantuko Shade that requires lots of black mana isn't very usefull, but Misery's Shadow really shines, err shades.
It's static ability does work against the Persist combos in the stack for Cube and it's pump ability is an amazing mana sink in the later turns of the game to break a stalemate. Honestly, one of the reasons I made up the format was because I wanted to play with cards exactly like this one in a new context. It feels right at home in a Battle Box.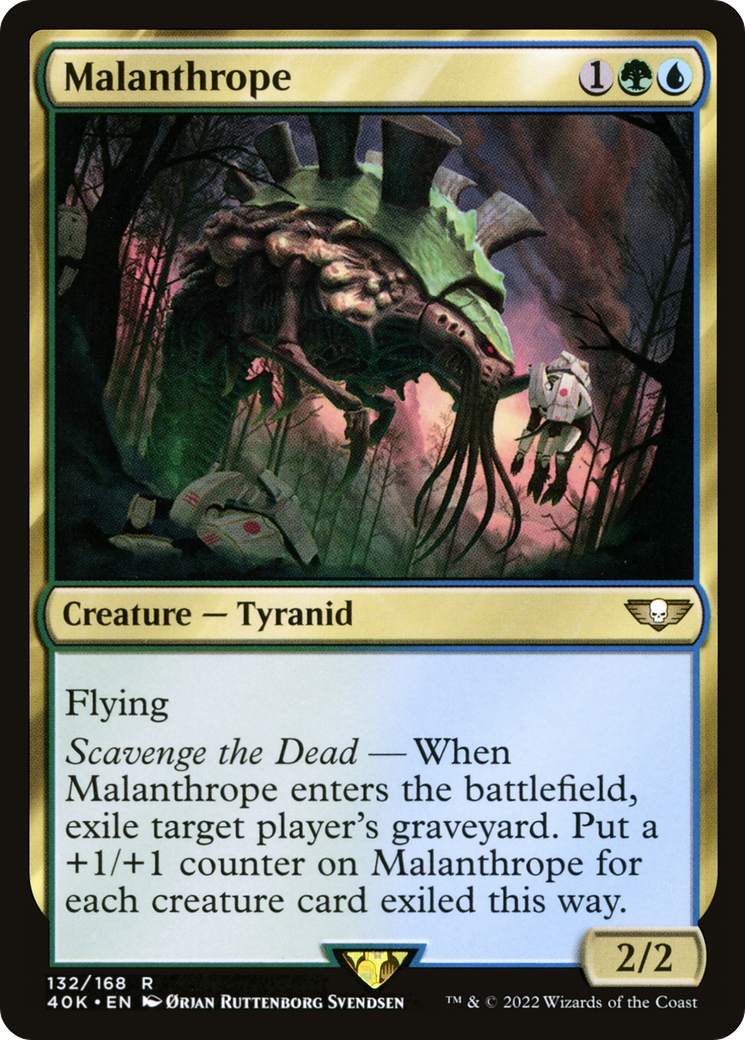 My favorite Battle Box card of the year comes courtesy of the Tyranid Swarm Warhammer 40K Commander deck, Malanthrope. The box sets feature a decent amount of fun Battle Box staples but Malanthrope is my favorite.
I was a bit disappointed that I still can't play Farseer on Jetbike as my Commander… We still need a Bant Eldar deck! With that said, I've played my 40K Eldar against my Brother's Tyranid swarm enough to fear the Hivemind and the swarm (why are they all psychers? They're just bugs and it doesn't seem fair, LOL) and I have a ton of respect for the design of Malanthrope. I love that it interacts with graveyards in a way that scales up in power as the game progresses while starting with respectable Wind Drake stats. Good graveyard hate (that doesn't feel like a sideboard card) is hard to find and Malanthrope is a nice one!
It's kind of a weird list of cards to say are my favorites of 2022, but Danger Room is my favorite deck and these are the cards I see continuing to be a part of my stack ongoing because I think they are a lot of fun to jam with. Any format where these are impactful and longevity type cards is probably pretty fun. 😉
I also believe whether you are starting a brand new Battle Box or tinkering with a longstanding one that these are wonderful, flavorful designs that will bring a lot of fun and dynamism to your games and are certainly worth giving a shuffle.