Pauper Commander, or PDH (Pauper Dragon Highlander) for short, is a format I've recently started enjoying playing. The RIW Twitch stream crew at RIW, Ryan Sparks and Jon Wilkerson, started playing PDH and introduced me to the format and before long I was hooked!
I've been playing it up at RIW Hobbies' Casual Sunday afternoons and there's about eight players with decks that have also been tinkering around with the format. So, a pretty decent following has been growing here in the past few weeks as people have learned about it. It's pretty easy to find a game amongst the Commander crowd players on Sundays.
BASIC RULES AND GUIDELINES
It's basically exactly like it sounds, a Pauper version of Commander, here's the basic rules of the format:
-Each deck chooses ANY Uncommon Creature to be the Commander.
-Every card in the 99-card, singleton deck, must have a Common printing.
-Each player starts with 30 life (16 "Commander damage" from a single Commander K.O.s)
-The only banned cards are Mystic Remora and Rhystic Study.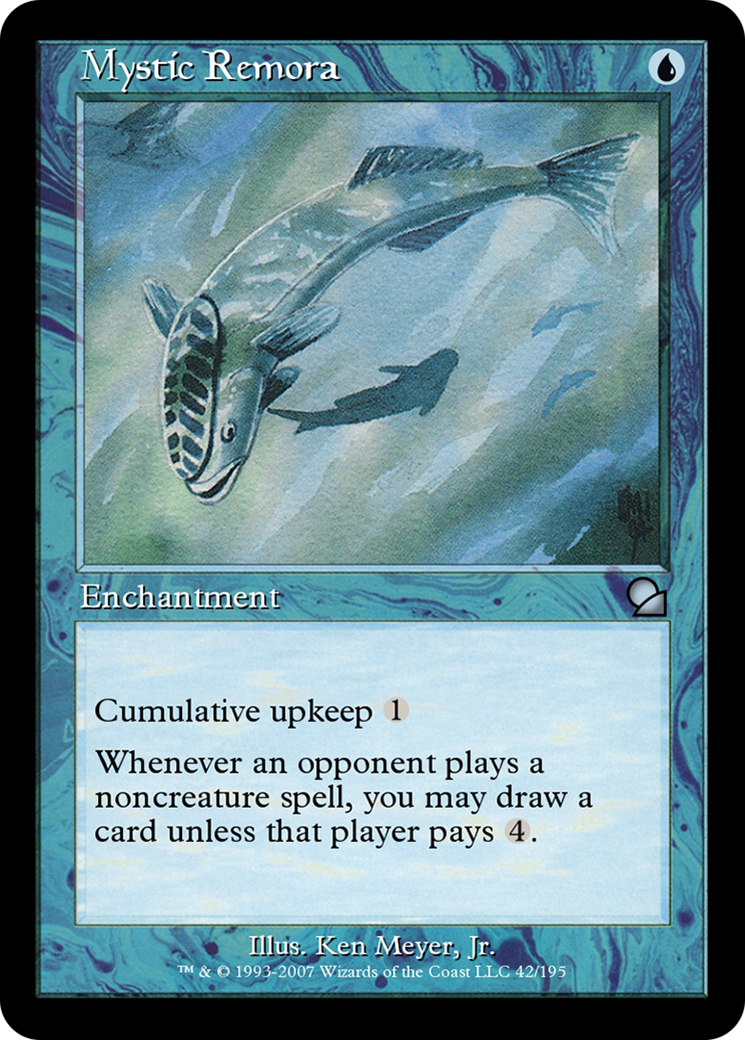 The Commander is an Uncommon creature and dictates the deck's color identity just like in regular Commander. So, a GW Uncommon can only field green, white and colorless spells as we'd expect. The key distinction being that any Uncommon creature is fair game to build around, doesn't have to be Legendary, and all the cards in the deck must be Common printings – just like in Pauper constructed.
It's also neat Pauper Commander has its own banned list, and doesn't default to the Pauper banned list, which means fan favorites such as Gush, Arcum's Astrolabe, & Daze are still legal to include in one's deck if a player feels like slinging them again. Yet, just because the deck is built around Commons doesn't mean it can't be quite spicy, as I'll show in today's article.
Another aspect of Pauper Commander I like is cards that tend to facilitate the types of play patterns many players deem 'unfun' simply don't exist in the cardpool because those types of effects are typically reserved for Rare and Mythic Rares, such as Mass Removal (wraths), and Mass Mana destruction ('Geddons).
I personally enjoy playing with and against powerful cards but I also appreciate the nuance of playing a more fair and balanced game of Magic where other things tend to matter in different ways. One thing I've noticed about Pauper Commander is that players can't just slam a bunch of broken cards at each other, so games tend to be more distinct with card advantage, combat, and different types of resources really mattering in different games. I would say the game play is excellent and challenging because players need to navigate complex board states in thoughtful ways, as opposed to "go over the top" ways.
There are certainly some sweet combos in the format, but the amount of redundant tutoring to find and execute these combos are naturally limited. The format reminds me a lot of how people used to play multiplayer games way back in the day before there were a ton of powerful rares designed specifically for multiplayer. It's a very chill version of Commander that's a ton of fun to play when you're just hanging out looking for some interactive games.
R.I.W.'S GAUNTLET OF DECKS
I'll be featuring some examples of decks that the R.I.W. Players have been working on and enjoying playing as we explore the format. The three players I'll be featuring decks from: Jon Wilkerson, Ryan Sparks, and myself have each built two different decks and each is very different. One aspect of the format I've been enjoying is the diversity of strategies and options. It is definitely difficult to narrow down to just 99 cards even with only having access to commons!
BRIAN DEMARS – BALEFUL STRIX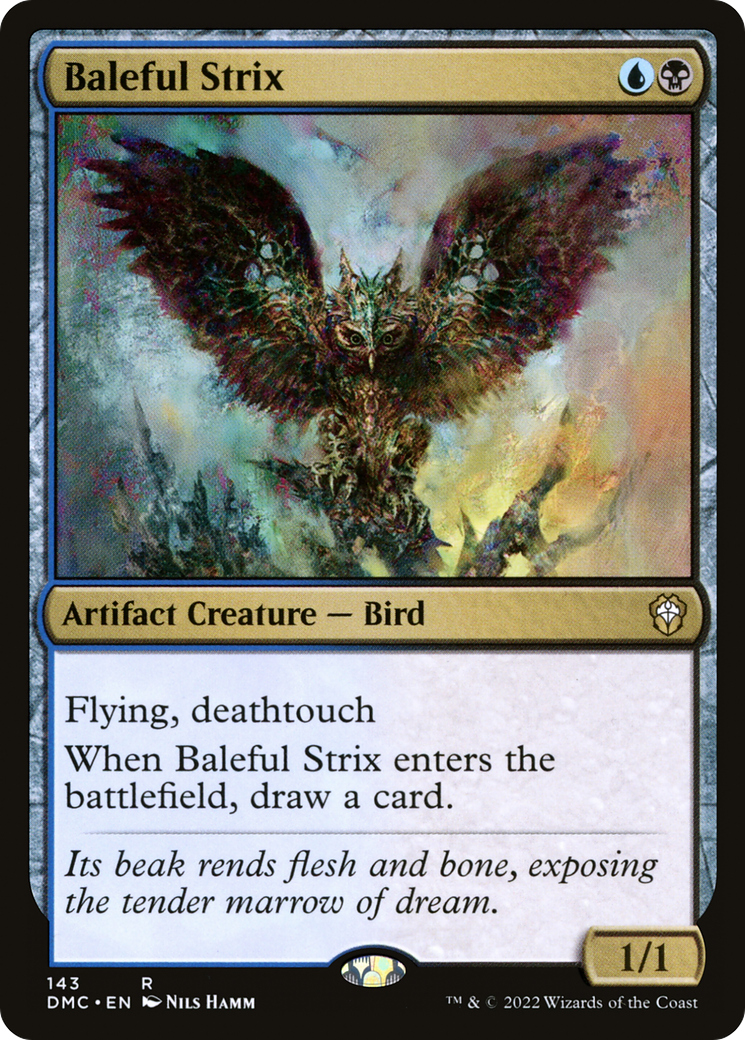 Baleful Strix is a Dimir Control deck. It utilizes Blue's powerful Common countermagic and card draw and Black's discard, removal, and sweepers to play a long and grindy game. It does have access to some cool combos with Displace and Ghostly flicker which is a great way to take advantage of making a lot of land drops and drawing extra cards. It's also quite adept at leveraging its sweepers, such as Pestilence, Crypt Rats, and Evincar's Justice.
BRIAN DEMARS – GOOD FORTUNE UNICORN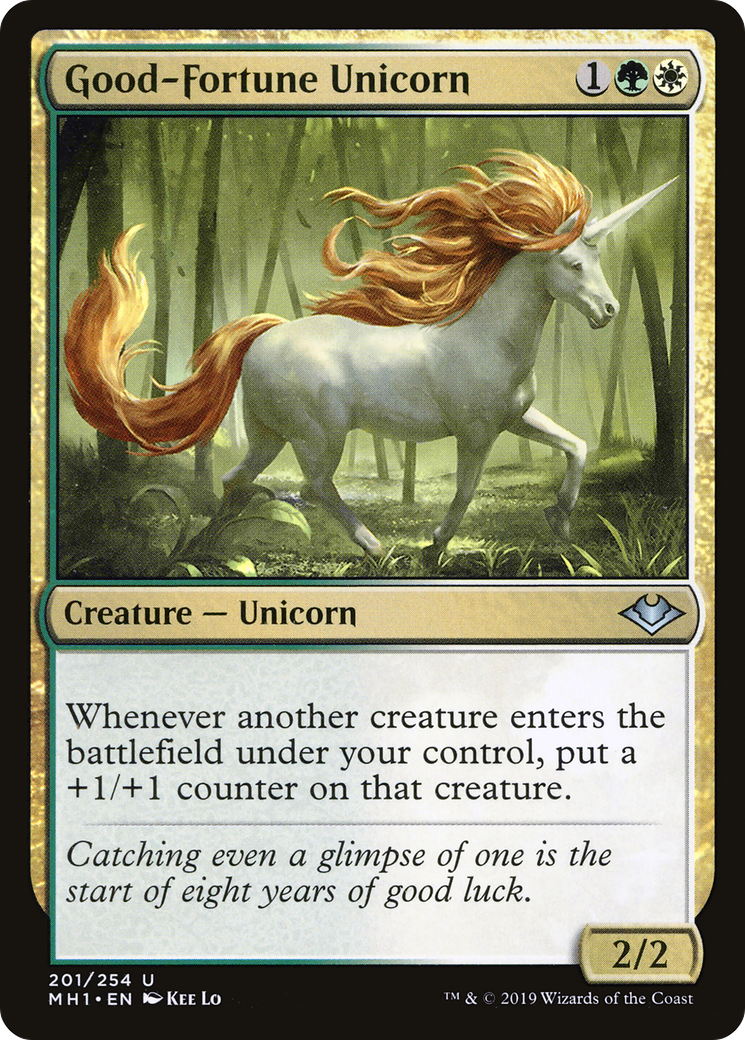 Good Fortune Unicorn is my pet deck! It really takes advantage of my Commander's ability to allow all my creatures to enter play with a +1/+1 counter and quickly grows a massive army. It also has some cool infinite combos with Persist creatures. Proliferate is also quite powerful in this deck since it tends to create a lot of +1/+1 counters. It's a very elf-y deck and my Commander essentially adds bulk to my fighting force.
RYAN SPARKS – ABOMINATION OF LLANOWAR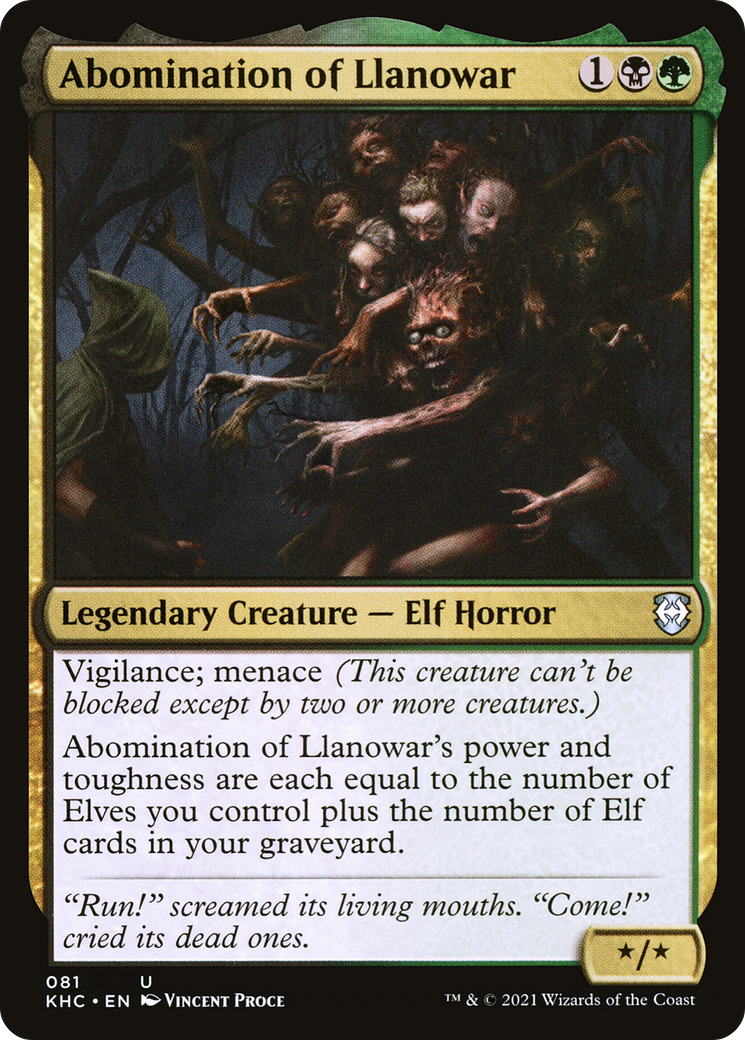 "Abomination of Llanowar provides Golgari flavor and specializes in combat tricks where creatures matter. The deck brings all the fun "common" elves throughout Magic history and is guaranteed to pack a punch or provide you extra mana sources to cast just about every spell in the deck. One thing the deck does well is it utilizes Whispersilk Cloak to add that protection layer to the Commander. "A.O.L." also likes to use cards like Fear and Vorrac Battlehorns to give it some deadly blows in the right state of the game (I've definitely got Chain Mail calling it AOL for the people who remember the OG email days). –Ryan Sparks
RYAN SPARKS – EXTRICATOR OF SIN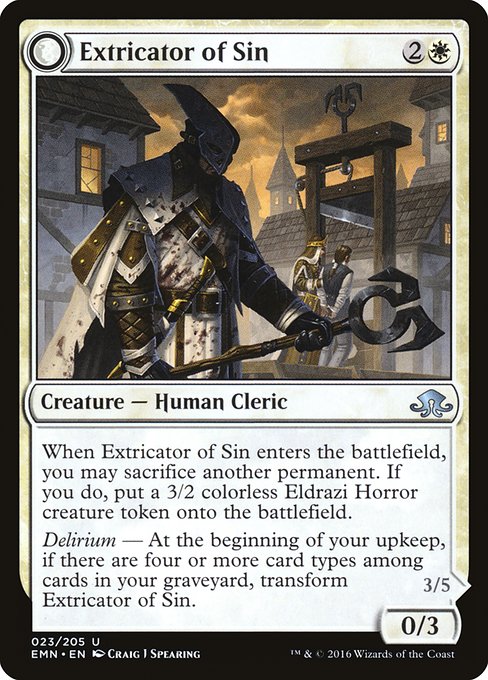 "Extricator of Sin, or the flipside Extricator of Flesh, is a special deck because it is one my friend and I built together. Originally an idea I had after my friend had to sell his traditional EDH deck: "Eldrazi Tribal" and he also really liked playing White spells in Magic to gain life and make tokens. When my friend found out I was playing Pauper EDH (this time with Brian and Jon) he handed me his deck in a collection of bulk he was parting with and told me to make him proud and play the deck. What's awesome about this deck is that it is all about getting delirium triggers by throwing things in the grave (as you can see from my EDH article on Meren, graveyards are kind of my thing) to flip your guy and make a ton of Eldrazi 3/2 tokens by sacrificing other non-Eldrazi tokens and going wide with vigilance." –Ryan Sparks
JON WILKERSON – BLOODBRAID ELF
"Starting fresh in a new format is always one of the most exciting times for me as a magic player. Building these PDH decks was no different, and I needed to take this chance to get new people interested. I had a few brainstorming sessions with the local grinders after our weekly pauper event. We threw around ideas till one stuck out in my mind: Cascade tribal. I wanted to be cascading into free spells as much as possible, to do so I needed a gruul commander at uncommon. We're in luck because one of the most powerful 4 drops ever printed, is slotted at uncommon, Bloodbraid elf. This couldn't just contain cascade spells, we needed to have the mana to power out our huge finishers like Annoyed Altosaur. I wanted to keep the commander theme light so I went with a tribal elf package. After playing the game a few times I realized my cascade targets all need to be something that affects the board in a permanent way. Flipping into a vitalize on a crucial turn is not where we want to be!" –Jon Wilkerson
JON WILKERSON – CRUEL CELEBRANT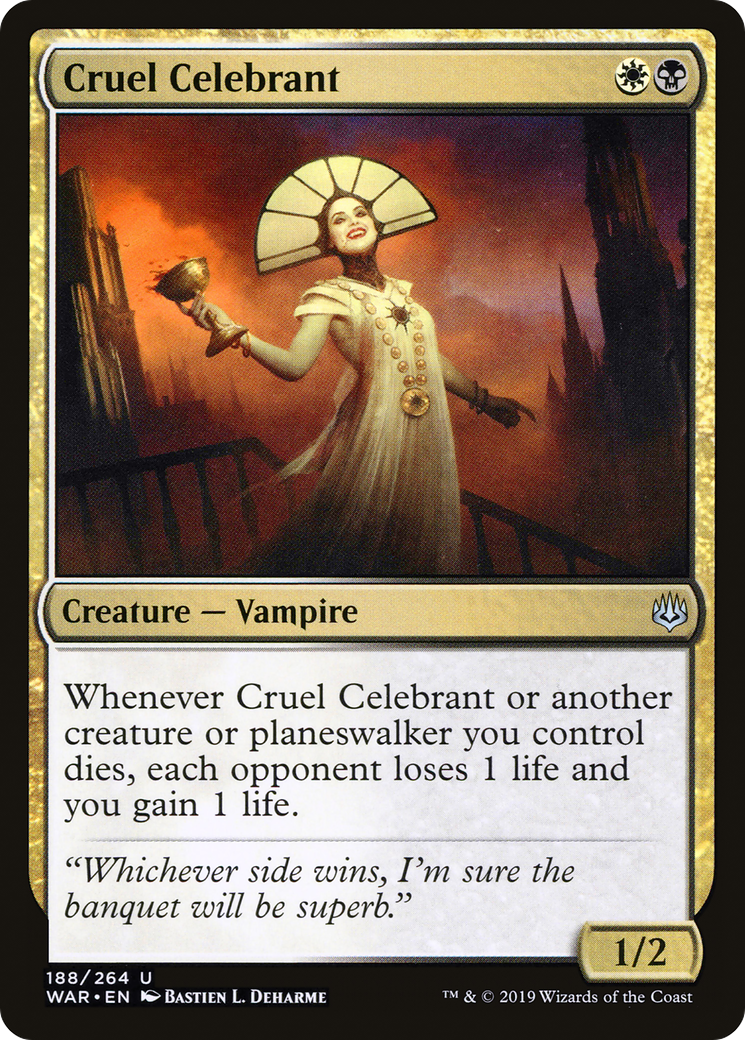 "Making the second deck in our gauntlet was decided after a few days spent researching uncommon commanders and deciding it would be a great time to introduce my beautiful girlfriend Nicole to the game. Combining what I know about how political games of commander can be with the fact that it was going to be piloted by a new player, I decided on Aristocrats. Having a low cost commander seems very important if you aren't ramping and I just wanted to focus on the "meat and potatoes" of magic. Basing our strategy around creatures was important to me and I wanted to make sure we had a way to play the long game with a bit of life gain built in. Interestingly enough at the time of building I somehow overlooked Elas il-Kor, Sadistic Pilgrim, but it has since been updated to the new commander!"-Jon Wilkerson
In addition to these six decks, I've also played against a pretty sweet 5-color blink deck with Fusion Elemental as the Commander as well as UG Tatyova, Benthic Druid.
My assessment of the format after only playing it for a few weeks is that it's fantastic! I've had a ton of fun brewing and assembling my PDH decks, Baleful Strix and Good Fortune Unicorn (my favorite deck so far), and have been thrilled with how inexpensive it is to actually build decks relative to Commander. If you're in town on a Sunday afternoon be sure to stop by RIW Hobbies to duel Pauper Commander or check the format and our decks out in action on the RIW Twitch stream. I'll be dueling some games this weekend for sure!