PAUPER COMMANDER: GOOD FORTUNE UNICORN
Today, I'd like to share my favorite Pauper Commander deck that I've brewed up so far, Good Fortune Unicorn.
The deck basically tries to swarm the board with creatures as quickly as possible with +1/+1 Counters generated by the Unicorn Commander to create a massive horde of beefy monsters to attack and block with. We want to create as many bodies as possible to take advantage of the Unicorn's +1/+1 Counter generation so I'd describe the strategy as being GW Tokens adjacent with some other fun elf synergies added into the mix.
One of the things I really enjoy about playing this deck is that it creates such a mass of creatures quickly and can pressure other players at the table to make moves. It doesn't have a ton of instant speed interaction, but it brings a lot of pressure. So, bear in mind that the deck interacts through its creature presence on the board which means you'll need to identify the decks that you don't match up well with in a late game (Turbo Fog, Drake Combo, or Black decks) and go after and knock them out first with good old fashioned beatdowns.
It's also sort of requisite for playing this deck to have the proper tokens and LOTS OF DICE! We make lots of additional 'stuff' and it really helps to have the proper tokens and dice to represent the board state. Little scraps of paper and backwards cards is a major faux pas for playing a dedicated token and counters deck.
Good Fortune Unicorn has terrific mana production. I'm completely obsessed with my PDH decks having great mana and I recommend playing between 34-40 lands to make sure to hit those all important land drops so you can curve out properly and deploy powerful threats in time.
I also play a good mix of basics (ETB untapped) and ETB tapped duals to ensure nice draws of having the right colors as well as lands entering untapped to use right away.
I also play a whole slew of mana dorks. I opt for creatures that make mana instead of spells like Farseek because they can carry +1/+1 Counters from my Commander and join in the combat as the game goes on. All things considered about half of my deck makes mana which is right where I want to be with 19 rampers. I also play a few Land Auras, Wild Growth and Utopia Sprawl, because they are CMC =1 ramp spells. You'll notice I went with mostly ramp spells that can be deployed in the first or second turn since it sets up deploying my commander a turn ahead of schedule which is a great way to leverage a beatdown game. The deck really wants to play and deploy threats with its commander in play first.
All good Commander decks begin and end with consistent mana and I'm very close to having an ideal configuration of great mana in this deck.
The primary plan of the Unicorn deck is simply to amass a large army of creatures that are bulked up with +1/+1 counters. Obviously, a single spell that creates multiple bodies on the battlefield lets us double dip Unicorn counters so I'm always keeping an eye out for the sweetest token spells.
I like to think of my creatures as a blob of power and toughness and am always looking for new ways to increase the size of my blob as quickly and efficiently as possible.
Unicorn has gotten some awesome new tools in the form of proliferators in the last set. Since all of my monsters have +1/+1 counters the Unicorn functions as a sort of anthem effect and a Proliferate trigger will essentially double up the counters and really make my team obnoxious on the field. It's also worth noting that creatures with proliferate triggers, the controller gets to stack the order of triggers; so, I can add a counter to them with Unicorn and then proliferate the counter.
We're building a GW Token blob.
I've also baked some combos into my Unicorn deck. In particular, adding a +1/+1 counter to every creature that enters the battlefield interacts extremely favorably with creatures toting the persist ability.
When a persist creature dies with a Unicorn on the field it will enter the battlefield with a +1/+1 and -1/-1 counter and the two will cancel each other out. Thus, the creature keeps coming back and is virtually invincible. When combined with Ashnod's Altar or Fanatical Devotion (sacrifice outlets) we can rinse and repeat infinite times to create infinite mana or regeneration shields to protect the blob from removal or sweepers.
I also play the full cast of Soul Warden creatures because they are outstanding in multiplayer but also provide the setup to gain infinite life triggers with a persist creature and sacrifice outlet.
I also have a Splinter Twin combo in the deck.
OTHER COOL ONES FOR A GW TOKEN DECK
I play a lot of elves which means I can capitalize on elf synergies.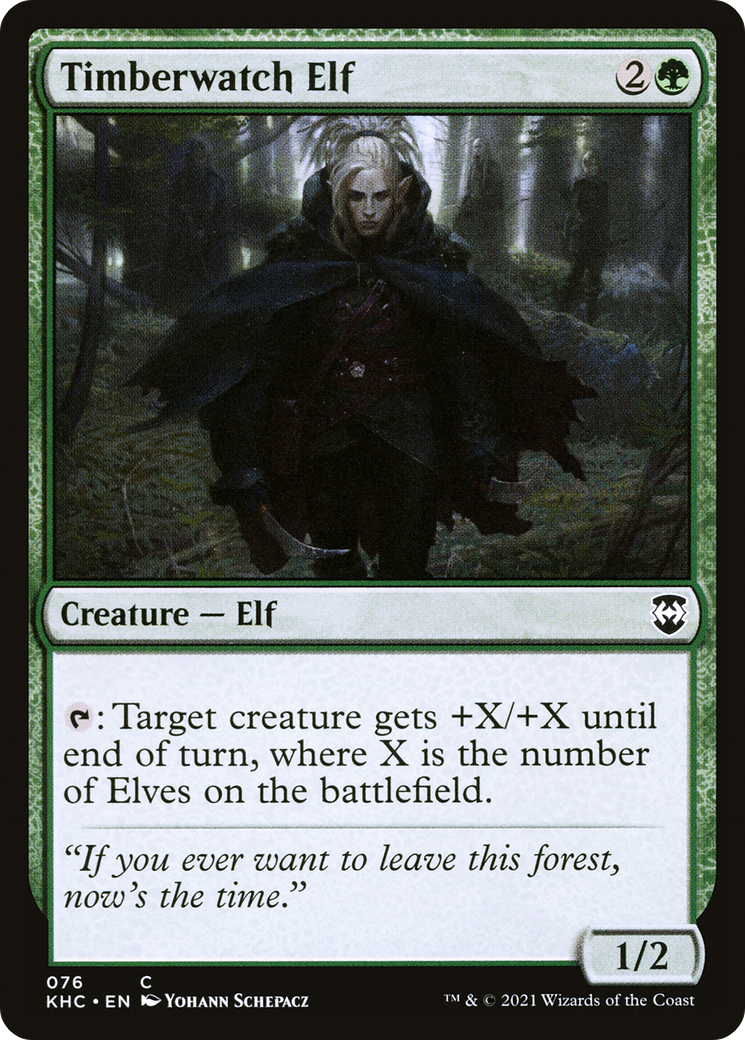 TImberwatch Elf is a PDH all star and a great way to rule the combat step in combination with mana dorks.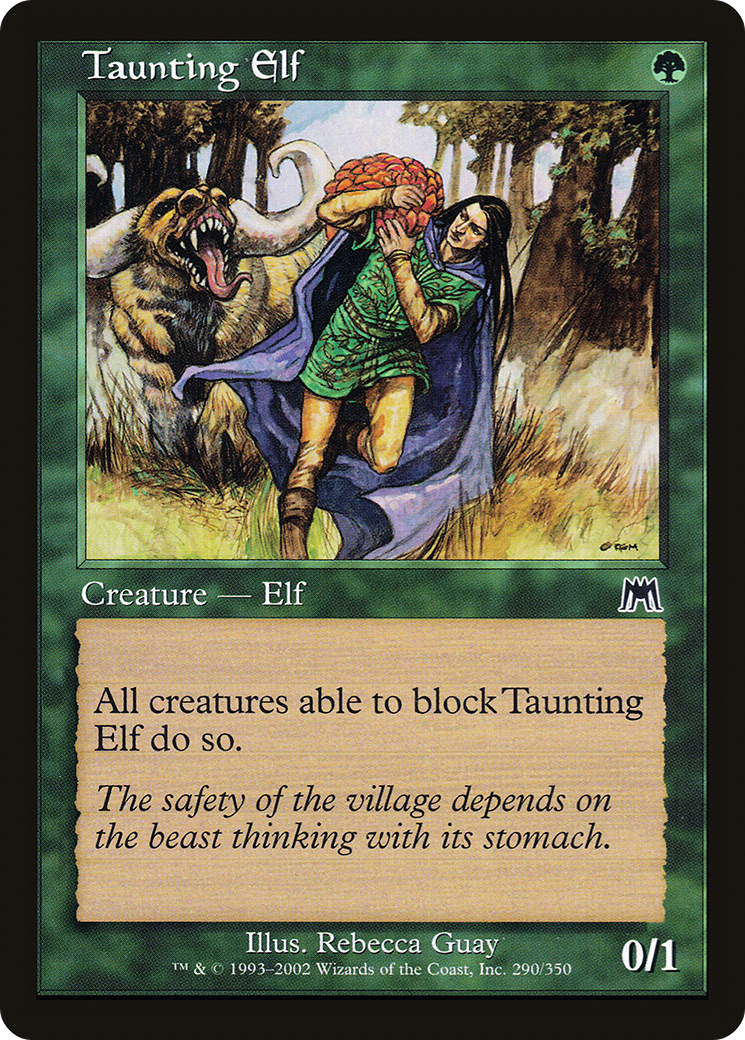 I've been really impressed with Taunting Elf as a 1 of. For a single mana, and a blob of power and toughness, an attack with the Taunting Elf leading the charge can often one shot a player right out of the game. Taunting Elf + Fanatical Devotion is also a pretty nifty little combo baked into the deck, since it ensures your Elf will always survive being blocked by an opponent's entire team.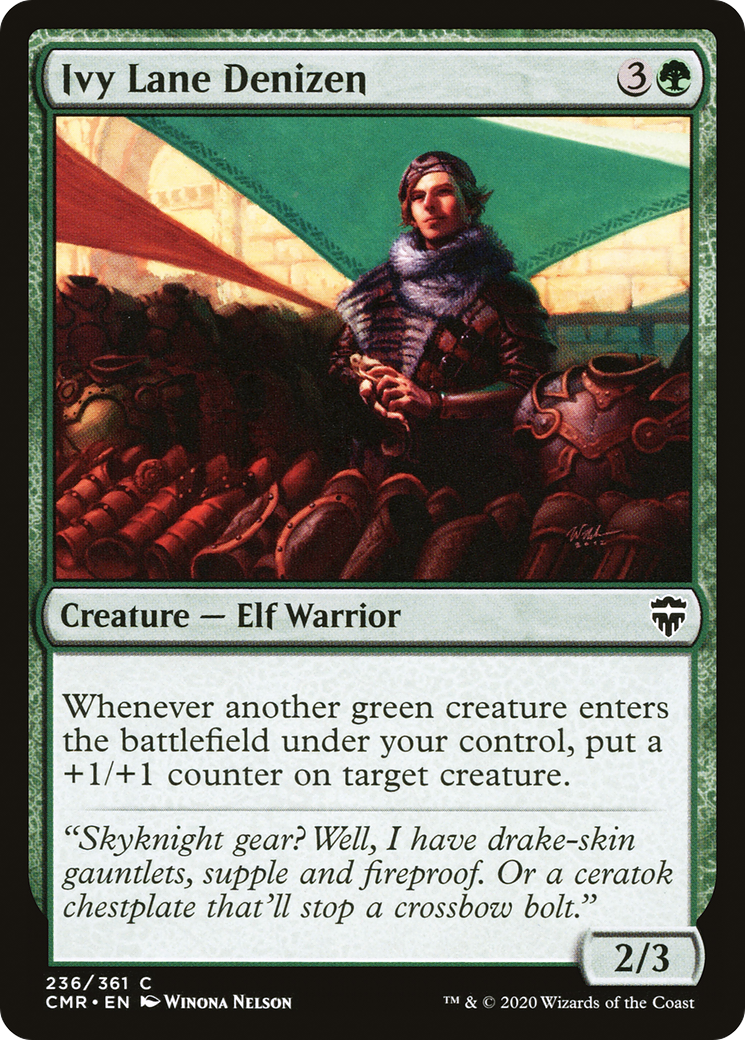 One of the other more powerful threats in the deck, Ivy League Denizen is able to capitalize on the fact that much of my deck revolves around creating green creatures including Elf and Saproling tokens. The blob can really grow quickly with a Denizen on the field.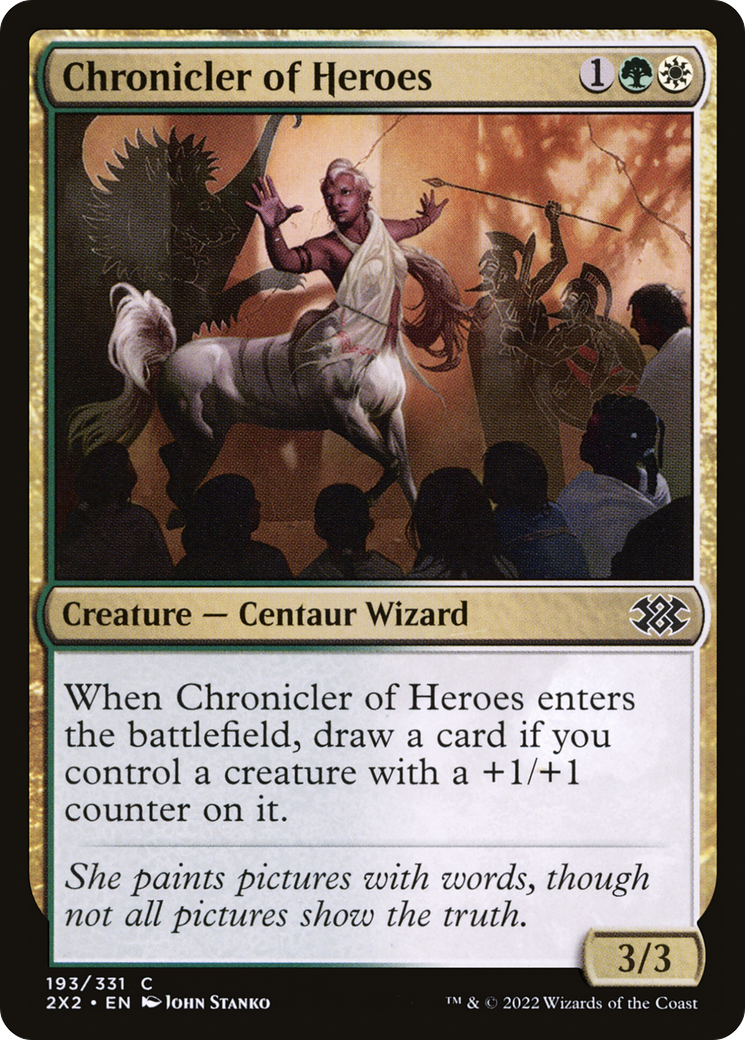 I'm always stoked when I can find sweet downshifts and this is a really cool one. With a Unicorn in play it's essentially a 4/4 "Draw a Card" for 1GW. Since we control all the ETB triggers we are able to stack them favorably, thus the Chronicler will get a counter first from the Unicorn and then check to draw a card!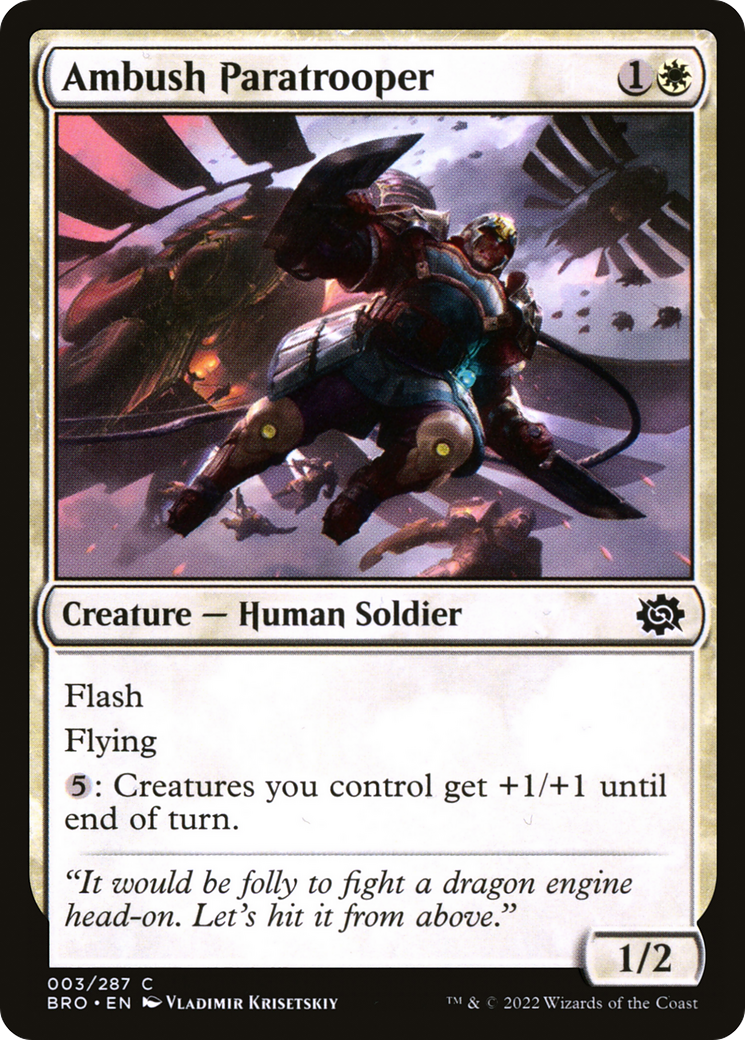 I've been impressed with the paratrooper as well. Keep in mind, when assessing stats that everything gets better with a Unicorn in play! I've also found fliers to be at a big premium in multiplayer, but it's really the ability to anthem our entire blob for 5 mana that excites me about this card.
If you're thinking about building a GW deck I hope some of these suggestions are helpful. I have found that GW is an effective multiplayer strategy because of how quickly it can amass a huge blob of pumped-up monsters on the battlefield. Mostly, I love sitting down and shuffling up with my Unicorn deck and having players be surprised at how quickly it grows the big blob of power and toughness and can put the table in a precarious position. Just remember that with a deck like this it's important to identify who is the biggest threat to you in the long game and take them out first. Ryan had a great article about that last weekso be sure to check that one out as well: https://riwhobbies.com/10-essential-tips-for-threat-assessment-in-multiplayer-commander/