Baleful Strix is one of my favorite Pauper Commanders (PDH) to play, and in fact my most winning deck in group multiplayer play so far.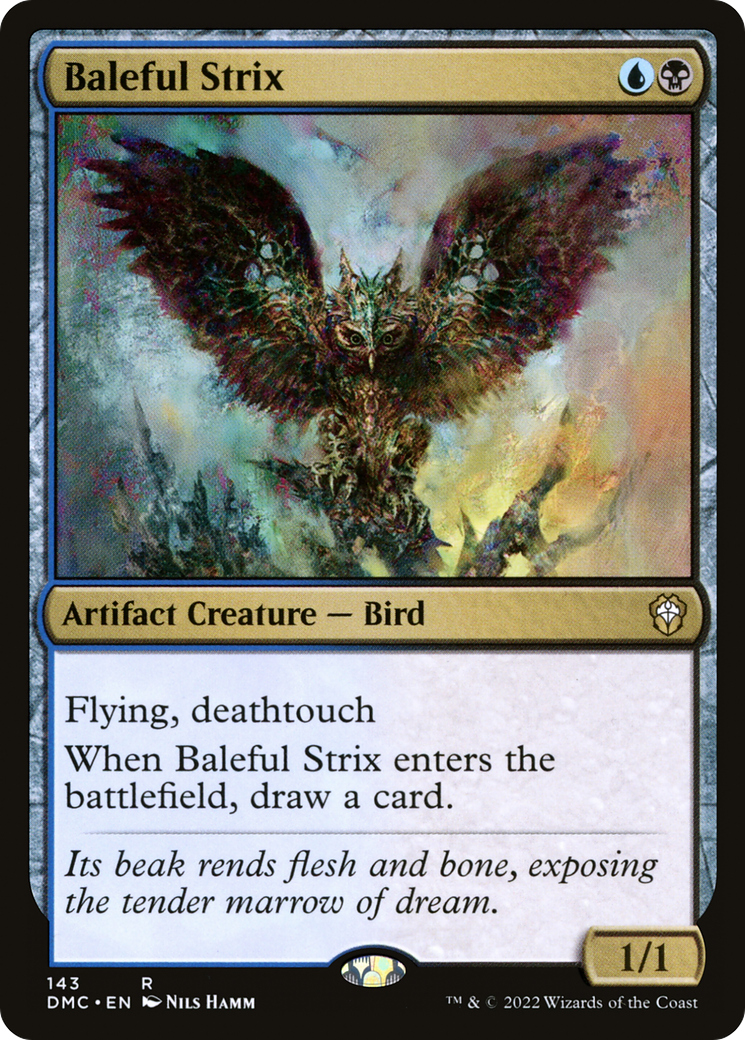 It turns out it was the first PDH deck I decided to build and meshes well with my play style as a Control player. It's a greatest hits of many of my favorite Pauper Control decks of all time.
The games of PDH I tend to find myself playing with my playgroup have a tendency to play pretty quick. Everybody in the group is a solid deck builder and player and so the games play fast and powerful. With that said, I haven't found too much trouble hanging around in those games with Baleful Strix and being able to come over the top with card advantage or a combo after stabilizing with sweepers.
In fact, my Commander functions as sort of a deterrent to being attacked by other creatures since opponent's are unlikely to want to trade with a Deathtoucher and let me draw another card when I recast it.
Basically, the strategy for this deck is to hang around as long as possible, ramp up on mana, and eventually come over the top in the late game. It's Multiplayer Control: 101. Everyone knows that I love to play a sweet control deck whenever I can.
Baleful Strix is uniquely a control deck and so I play a little bit heavy on the mana: 37 lands and 13 pieces of artifact mana; roughly half the deck is the mana base and the other half is action.
One thing I noticed and built around is that Strix isn't a great two drop in this deck because I'll typically have to discard the extra card it draws because each player starts with 7 cards and draws on their first turn of the game. I overloaded on mana rocks and cheap drops to get a card out of my hand so I can net the advantage from my Commander.
I want to survive to a point in the game where I have a lot of mana and can do multiple things per turn so I've found getting started on mana development early tends to be my sequencing emphasis and lots of signet type Mana Rocks also diminishes the number of hands I'd typically need to mulligan. The high density of mana sources negates a lot of need to take mulligan hands and also means my deck will typically mulligan well in multiplayer.
In Commander, but especially PDH, a deck with a lot of focused card draw doesn't really get punished for going heavy on its mana first and foremost. I have no issue with playing 37 lands and an additional 13 Mana Rocks because I always want to be developing my mana and hitting all my land drops.
I play a lot of sweeper and board reset cards in Baleful Strix to help out in games where a lot of monsters get deployed early and threaten to attack me to death.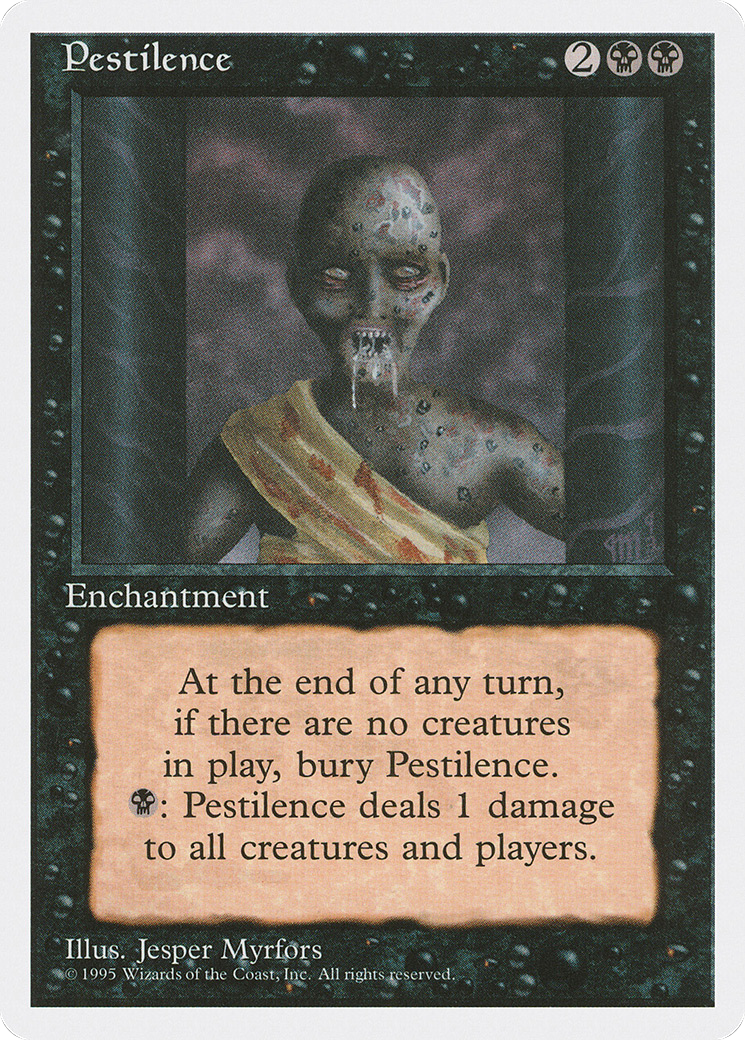 There are not a ton of great sweeper effects in PDH (which is part of what makes it so fun!) but Black does have a foothold in the good ones that are currently legal.
I also have some solid spot removal to help out against Commanders that play a Voltron style of offense through their leader. Basically, I'm looking to line up the right tools to stay in the game as long as possible so I can stabilize and turn the corner in a big mana kind of way.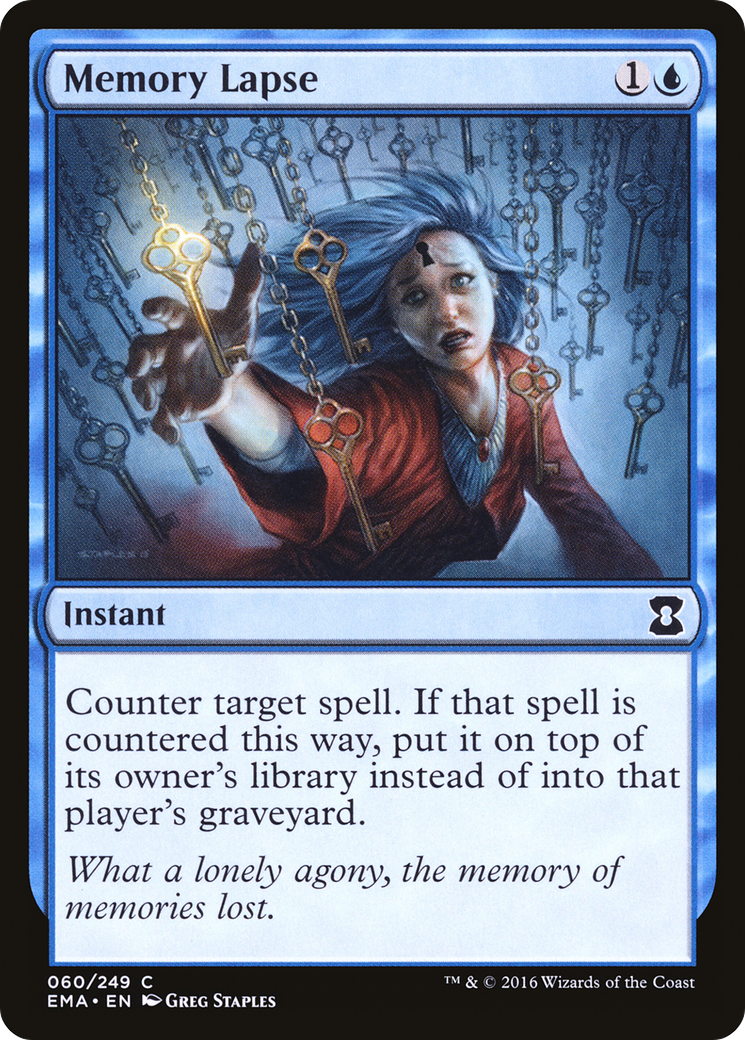 I only play two hard counters, Counterspell and Memory Lapse. In multiplayer I prefer not to trade cards 1 for 1, but two mana counters are hard to pass on! I could also see myself eventually adding a third counter to the deck, possibly Arcane Denial or Condescend would be my top choices.
Card draw and card selection are an aspect of playing control that I really enjoy and so I've maxed out that statistical column in my deck. I want the games to end up going long and for me to have access to a lot of extra cards when and if it does.
I squeezed in as many sweet cantrips as I possibly can, not just because they are fun to play but also to ensure I'm hitting my land and mana drops early and digging toward my powerful threats and combos in the mid and late game.
I wouldn't necessarily call this section "threats" so much as board presence. I'm not really looking to beat three players to death with draw-a-card bears, rather most of these creatures tend to play out in such a way as to deter opponents from attacking me or chump blocking to preserve my life total after entering play with an ETB ability.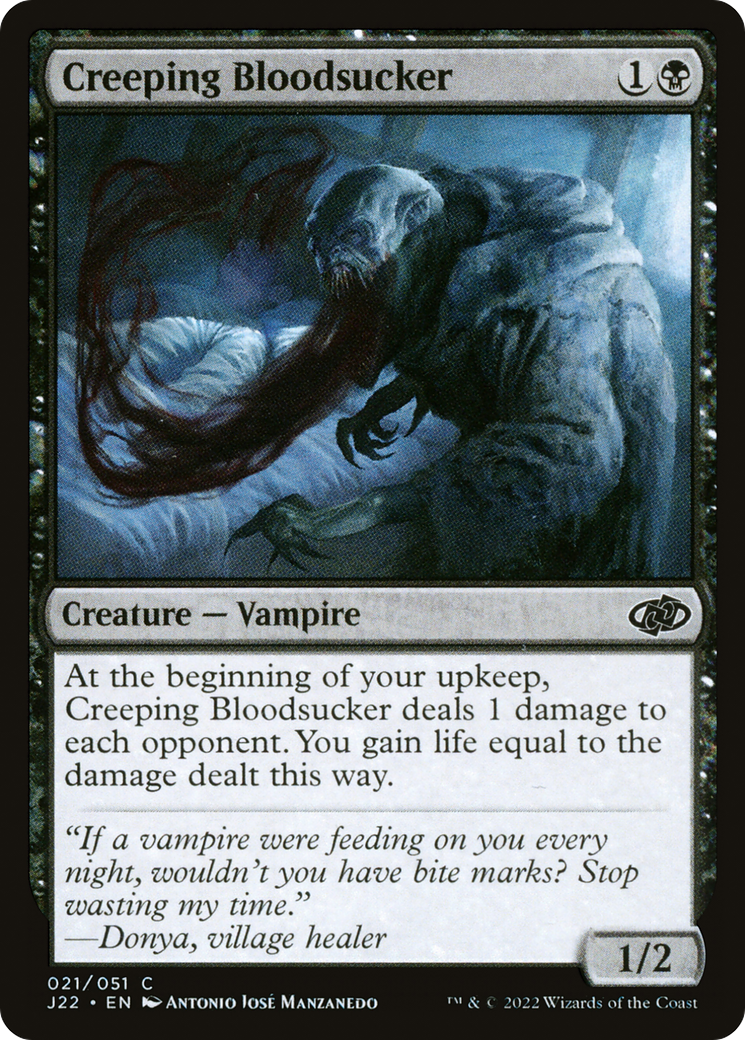 I've also been thrilled with this little monster from the Jumpstart. It gains a bunch of life and has pretty nice damage output. A cool niche find that should find a home in a lot of PDH decks because it gives us a free extort every turn. A great way to bank some extra HP.
The way my Baleful Strix deck typically wins is by resetting the board with a sweeper and then pressuring with a big monster like Gurmag Angler or Tolarian Terror and/or comboing out with an Archaeomancer style creature and Ghostly Flicker or Displace.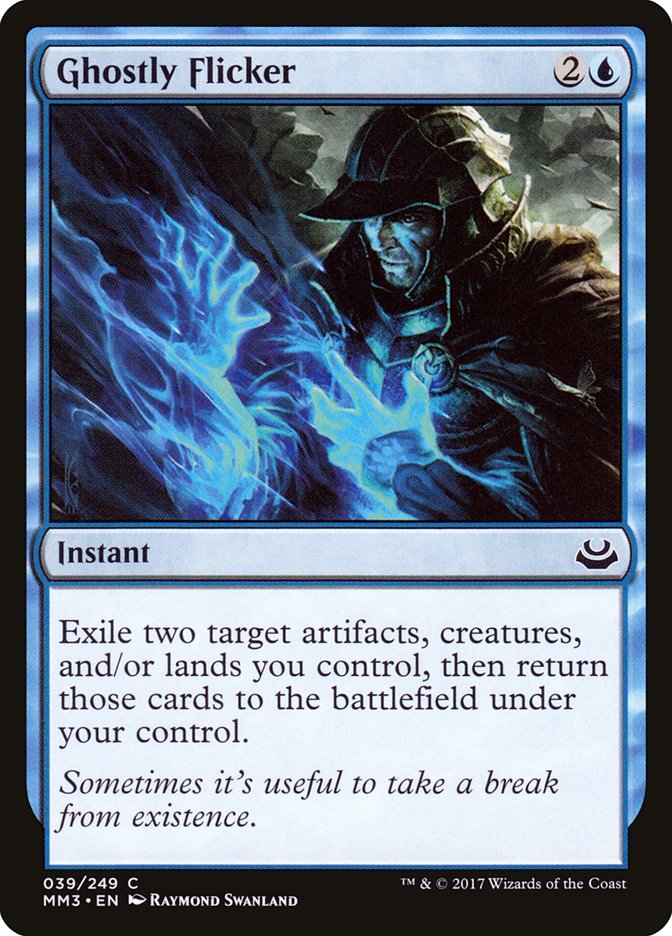 I've found flickering ETB creatures with a regrow creature to be a consistent way to win games of multiplayer.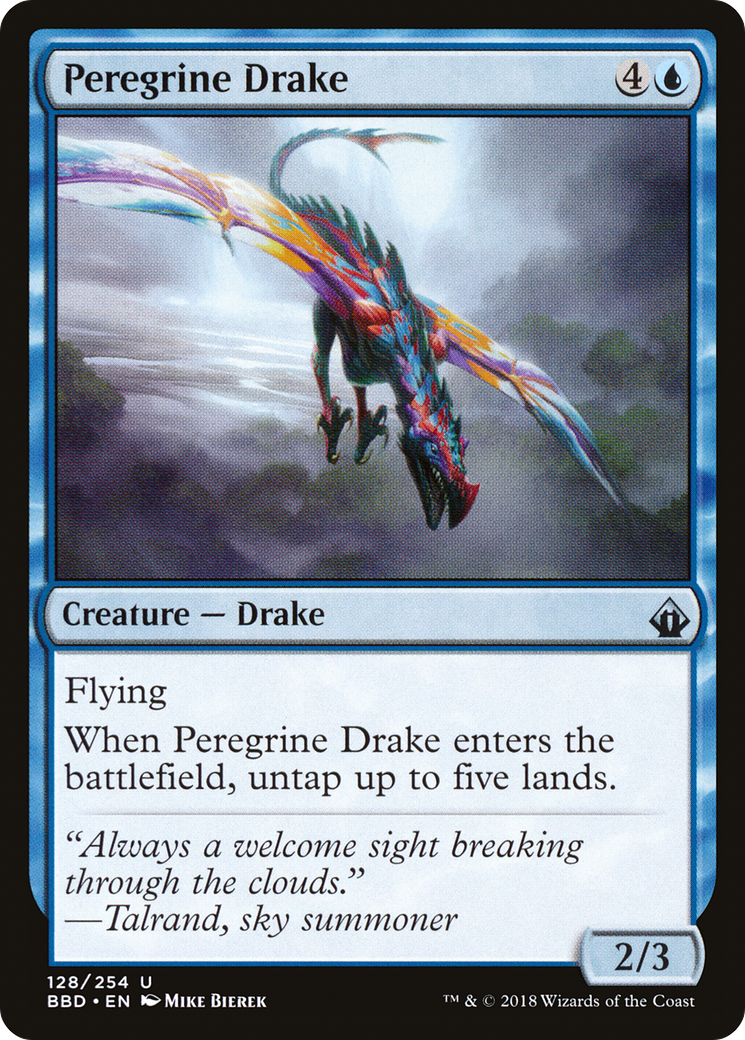 Bear in mind that I also have the ability to go infinite on mana with Ghostly Flicker + Regrow Creature + Peregrine Drake which allows me to draw my deck and legitimately combo off.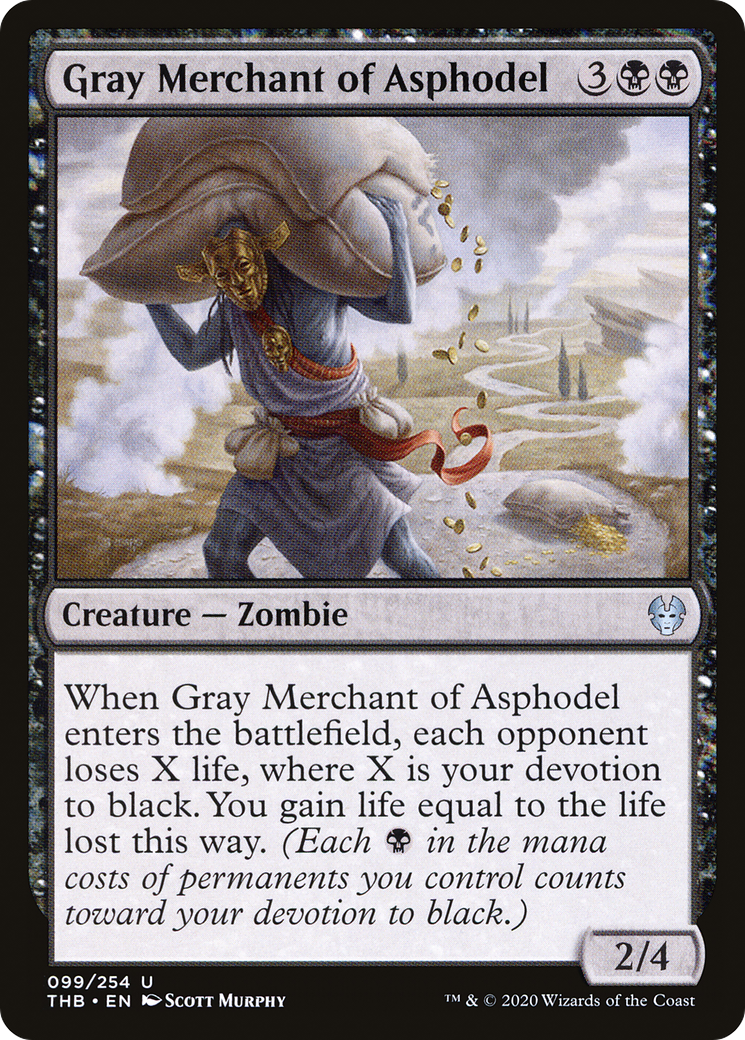 I can also set up a sequence where I'm able to Scrivner back Displace or Ghostly Flicker to repeatedly blink out Gray Merchant of Asphodel which is another powerful combo route to victory in a controlling deck.
My strategy is essentially to play mana, sweep and block to stay alive, and then come over the top with some of the most powerful Common combos ever created! Baleful Strix functions as a "don't attack me" buffer (since nobody ever wants to trade their best creature with it) which works nicely in my strategy. The deck is a blast to play, at least for me, because it's filled with many of my favorite cards of all time which is part of what I enjoy so much about PDH deckbuilding and play.