Dominaria United is out and has been making plenty of waves across formats. I've been playing Modern, Pioneer, and Standard lately and will be discussing my top ten favorite cards and cycles from Magic's newest competitive set.
I'll preface this article by saying selecting just ten cards was no easy feat so it was expanded to include cycles. Now that the set has been out for a few weeks I've come across many elegant designs where power meets balance. I got into tournament Magic during Invasion block back in 2001 so this plane is near and dear to me.
#10. Allied Pain Lands (Adarkar Wastes, Sulfurous Springs, and Karplusan Forest)
Ice Age (1995) is near and dear to me because it helped me learn to read. I typically lean toward playing cards from Ice Age when I can so it's fun these lands are added to Pioneer. Allied manabases were at a disadvantage due to the lack of fast lands and pain lands so it's good to see them get a boost. They haven't made the impact I was expecting during spoiler season, but Rakdos Midrange plays a couple Sulfurous Springs.
Pain lands have also made a big splash in Standard. The most popular decks feature three colors and may play cards from the Invoke cycle from Kamigawa: Neon Dynasty. It's nice to be able to play a dual land that doesn't enter the battlefield tapped.
Serra Paragon has made a splash in Standard in a fun way. It's a recursive source of card advantage that is still vulnerable to removal. I enjoy the optionality as you can delay casting it to get a guaranteed two-for-one or get greedy and run it out on the fourth turn.
It's nice when competitive cards also have casual appeal, too. Angels that get card advantage are a sure way to knock it out of the park.
#8. Squee, Dubious Monarch
Not only is Squee a crowd favorite, but Goblin Rabblemaster derivatives are always fun. The tribal decks get a boost with a sticky threat; the graveyard is rarely used as a resource in those strategies.
I've been a fan of transformational sideboard threats as far back as Nantuko Shade in Mono Black Control in 2002. Control decks can be a one trick pony at times so it's a nice surprise to the opponent with a new angle of attack after sideboarding.
Again, Dominaria United does an exceptional job of calling back to fan favorites; this time Figure of Destiny. The level-up creatures offered plenty of decisions each turn.
Unlike Figure of Destiny, Evolved Sleeper doesn't threaten to end the game once it reaches its final form. This is a great aspect of the design because it calls back to a time when threats didn't end games in a couple turns and players could use their life total as a resource.
#6. Sheoldred, the Apocalypse
Sheoldred is a lavish example of a powerful mythic that doesn't immediately end the game if it resolves. It tangles well in combat and can be both an effective offensive and defensive weapon. It's not only a star in Standard, but also picking up steam in Pioneer.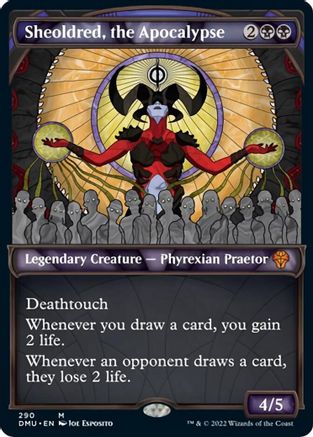 I recently acquired a couple copies of the Phyrexian language version. A gorgeous alternate version printing.
Cut Down is a well designed removal spell because it's not always going to have a target. Fatal Push is a strong removal spell in most constructed formats because it's the best way to kill creatures for a cheap rate. Cut Down doesn't scale as well which makes it more interesting.
#4 Uncommon Kicker Cycle (Rona's Vortex, Tear Asunder, Fires of Victory, and Phyrexian Missionary)
Kicker is one of the most popular mechanics to come from the plane of Dominaria. I like the uncommon cycle the best because they are efficient at face value and gain additional optionality as the game continues. These cards just feel good to cast and are making waves in various constructed formats already.
Fires of Victory, for example, is as close to Prophetic Bolt we will get in Pioneer.
#3. Domain (Leyline Binding and Nishoba Brawler)
The domain theme appeals to me because one of my first PTQ wins was back in 2008 Extended with Zoo. Tribal Flames and Gaea's Might were the strongest domain payoffs at the time, but Leyline Binding takes it to a whole new level. The versatility has enabled Rhino Cascade in Modern to make a return as it's able to deal with a wide range of hate cards.
Nishoba Brawler has revitalized Domain Zoo in Modern. Tarmogoyf hasn't stood the test of time and can now be replaced with a 5/3 trample for two mana.
It's hard to not put Liliana of the Veil near the top of the list as she became a staple in Pioneer as well as Standard, overnight. Thankfully, Pioneer has the card pool available to go wide with creature decks to prevent Liliana from becoming oppressive.
Liliana combined with some of the other cards on the list, Sheoldred and Evolved Sleeper, has pushed black decks to the top of the Standard format. I think it's a marvelous thing because people, including me, like casting Liliana of the Veil.
#1 Read Ahead (The Cruelty of Gix and The Elder Dragon War)
Dominaria United was a huge hit for bringing back the past, but I'm putting a new twist on an old mechanic at the top of the list: Read Ahead.
Sagas have already been a huge gain for Magic because it creates a new scenario each turn and Read Ahead provides even more optionality.
The Cruelty of Gix has enabled reanimation strategies in standard combined with Titan of Industry. If you don't have the Titan in the graveyard, you can use chapter two to search for an enabler. I understand the hesitancy of printing too many four-mana reanimation spells into Standard and this is an elegant solution.
The Elder Dragon War is able to be used as a sweeper or read ahead to make a Dragon token. Chapter two is also powerful, rummaging as many cards as you please. The optionality is high on this card which makes it fun and interesting.
Dominaria United is a huge success in my book. Unique twists on old mechanics that are powerful, but not game-breaking.