COMMANDER: TIAMAT, THE DRAGONSTORM
I've built a lot of Commander decks over the years and today I'd like to share one of my favorites because it is so wildly fun to play: TIAMAT DRAGONSTORM!!! It is very much a combo deck based around winning with LOTS OF DRAGONS and in this article I'll be discussing how I built it, how it works, and why I enjoy playing it so much.
My Tiamat deck holds a special place in my heart because I bought exactly one Collector's Booster of Adventures in the Forgotten Realms and pulled a full art foil Tiamat. Lucky, right!? I remember looking at it and thinking, "Wow, this card is SWEET and I need to build a Dragon deck!" I've never approached deckbuilding from that perspective before where I just open a cool card and decide to go all in on it. I couldn't say "no" to a Commander that lets me tutor FIVE times.
Let's start with the list!
I call the deck Tiamat, the Dragonstorm because it harkens back to one of the coolest combo decks of all time, Dragonstorm. The deck wins by putting many of the coolest and most powerful Dragon creatures ever printed onto the battlefield in a predictable sequence to attack all of the other players for lethal in one fell swoop.
Since this is a Dragon deck let's start by taking a look at the Dragons I've selected and why they are important to my combo deck.
Tiamat is a special card because it tutors up five dragons which means that casting it will always give us access to whichever dragons we need to "storm" off. I've constructed this deck to try and initiate and execute the Dragonstorm sequence all in one turn and as quickly as possible.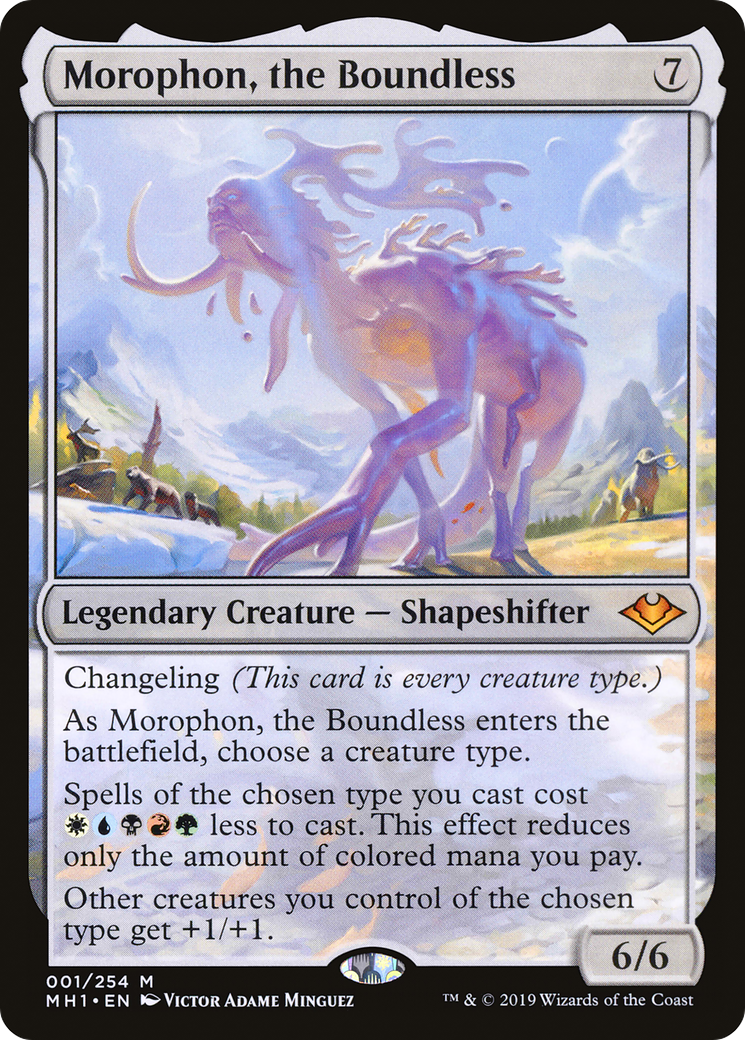 The key to the sequence is Morophon's ability to reduce the cost to play additional Dragons by WUBRG which makes deploying a bunch of Dragons all in the same turn a feasible (yet tricky) task.
There is some amount of variance to how we'd deploy the Dragon Storm Chain depending upon how much mana (and which combo pieces) we have access to on the turn we Storm off but generally if we have ample mana to "go off" the ideal chain is:
TERROR OF THE PEAKS (we get a copy of Terror of the Peaks so each subsequent Dragon we cast will get two sets of ETB Damage triggers).
SCION OF THE UR-DRAGON (tutoring up Earthquake Dragon, Beledross Witherbloom, and finally Karrthus, Tyrant of Jund)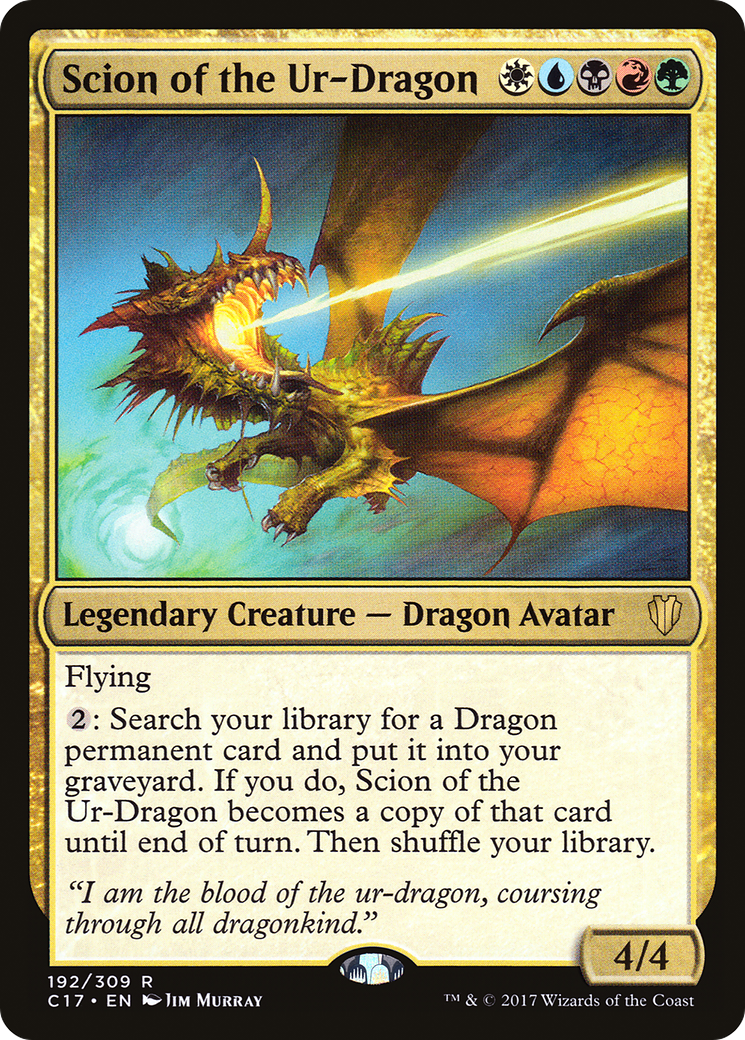 There are no infinite combos in the deck, but when we "go off" the deck puts a massive army of hasty dragons onto the field and does around 200 total damage.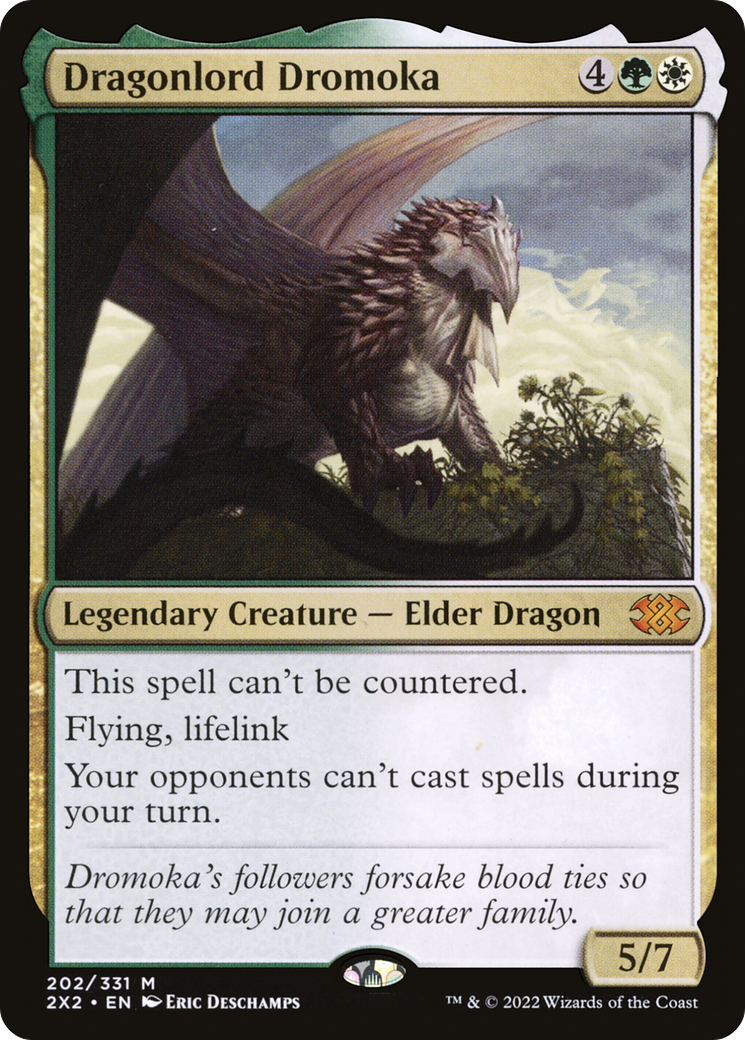 The card is extremely versatile in this deck and has some great interactions. It can tutor up Dragonlord Dromoka to lock other players out of your turn.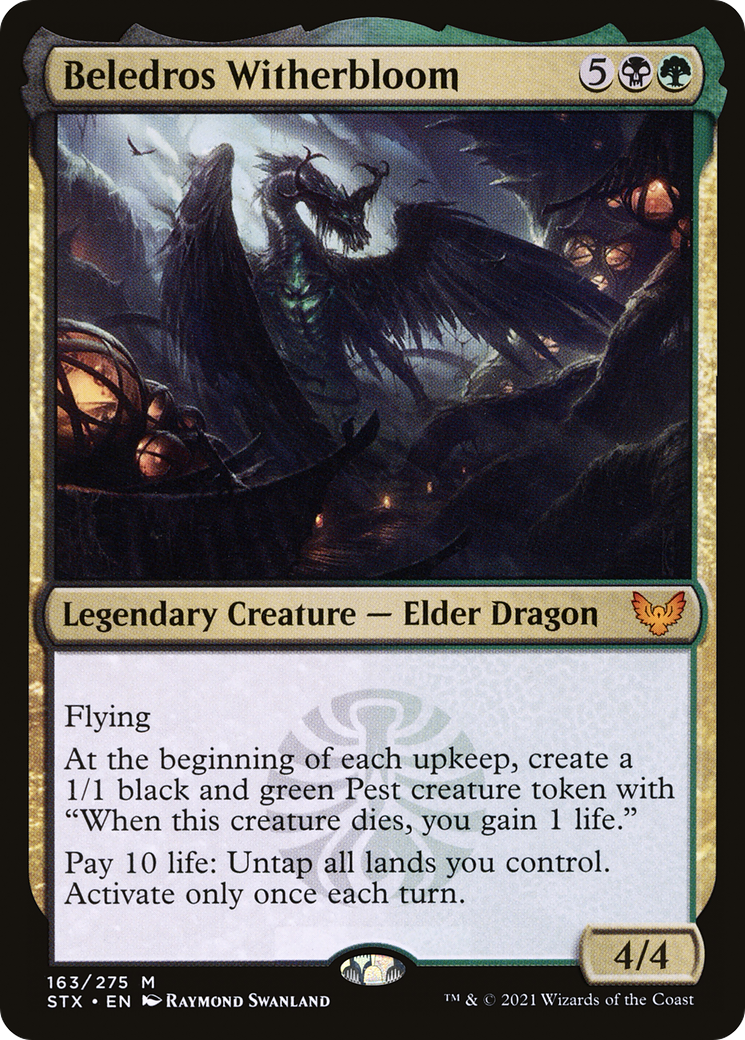 Scion also becomes Beledross Witherbloom to untap all of our many lands to keep comboing off: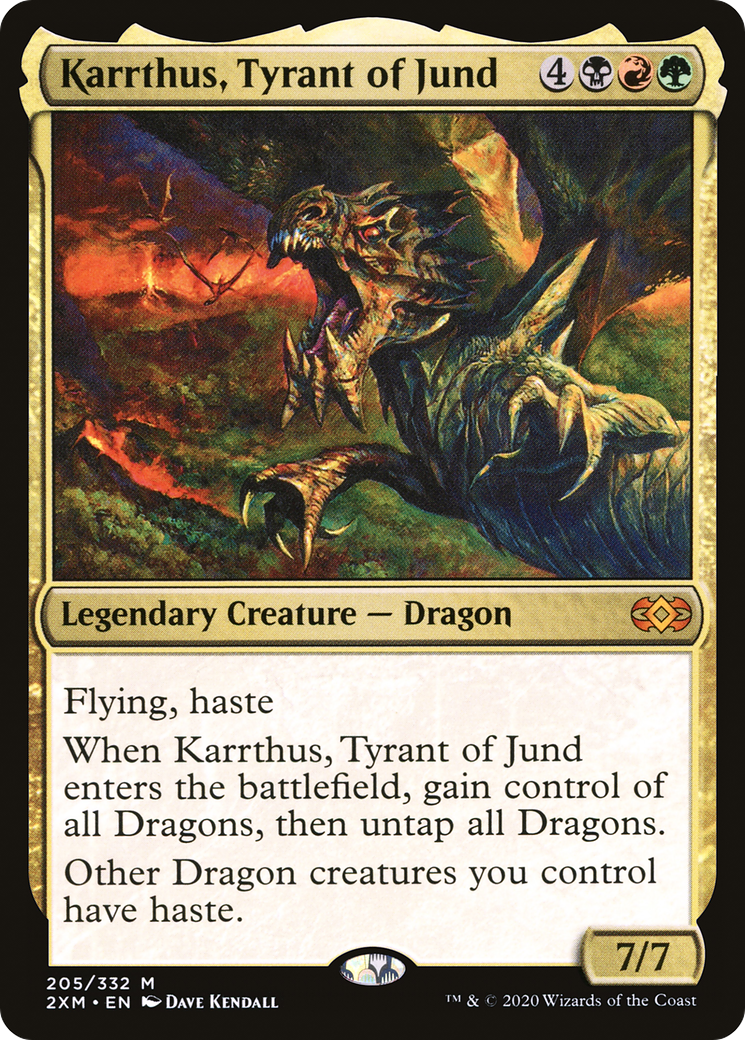 And, it can search up Karrthus to give all our dragons Haste for the big alpha strike.
Basically, if we achieve our goal of making a ton of mana and the proper set up our endgame is a giant blob of damage via Terror of the Peaks triggers and a ton of Dragons and Tokens.
I really enjoy playing decks with expensive CMC Commanders because it always provides an awesome payoff for having a great mana engine at the end of the rainbow and Tiamat is an excellent example of this strategy incarnate.
Aside from my Dragon package, most of the cards in my deck make mana either directly or in the form of helping me chain Dragons together.
Since the Tiamat deck isn't particularly interactive (in the sense that I'm focused on achieving my own combo rather than disrupting others) the deck is a ton of fun to goldfish. I enjoy goldfishing this deck almost as much as playing it with other players because it's such a straightforward and challenging goldfish experience!
We really like to curve out on turns one through four and then start getting close to having the resources to combo off. The fastest I've ever combo'd off in a game was turn four and that's quite rare but I get a lot of consistent turn five and six wins. It's one of those decks that really takes people by surprise with how quickly it pivots from ramping to ending the game with lethal damage.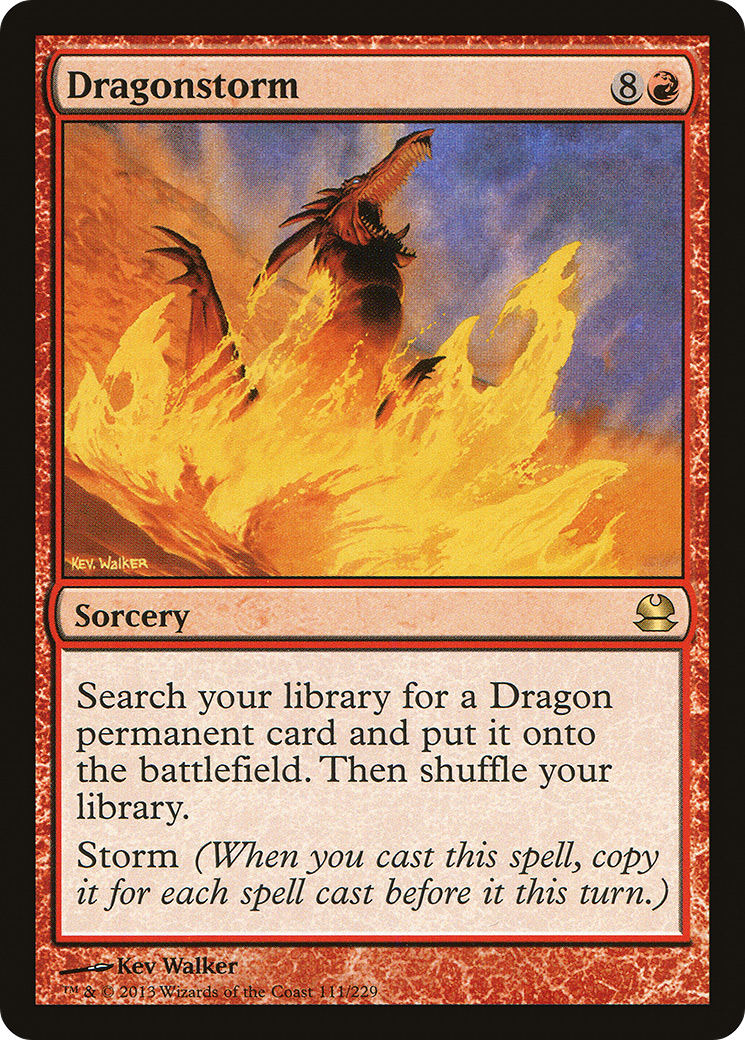 Another neat aspect of the deck that helps me combo off is using a lot of ramping extra lands into play, Enchantments that allow my lands to tap for additional mana, and ways of untapping all of my lands. Since, Beledross Witherbloom is such a fundamental cog in the deck with Scion of the Ur-Dragon ramping extra lands and having ways to untap all my land to make a TON of mana became a fixture of my deck.
Mana Flare, Mirari's Wake and Heartbeat of Spring (with Turnabout, Candelabra, and Rude Awakening) are also a great way to set up the actual Dragonstorm card in my deck.
Probably the most broken spell in the deck since it typically tutors up Morophon first (along with Miirym and Terror of the Peaks) and reduces the cost to cast Tiamat to 2. Tiamat can then tutor up a bunch of dragons that will be free with Morophon in play.
Another two cards that I think are criminally underplayed in Commander are Energy Tap and Sacrifice because they are two of the most powerful rituals in the format in terms of how much they ramp (especially with an expensive Commander like Tiamat). It works out so perfectly that we can play Tiamat to tutor up 5 Dragons and then use a Super-Ritual to immediately deploy Morophon on the same turn when trying to go off. Basically, I've baked a lot of ways into the deck to immediately get Morophon onto the field after casting Tiamat without needing to make 14 mana.
I even get to play Elvish Piper and Sneak attack to help cheat Morophon into play which is super cool. I'm a big fan of both cards.
I love to be challenged when building new decks and Tiamat pushed me to my limits because it's such a wack-a-doodle combo deck. I also think a budget-ish version of this deck would be highly playable and quite powerful relative to other budget options. One can easily replace the dual lands with Shock Lands and some of the expensive artifacts with more land search. The core of the deck is a basic ramp deck with a Tiamat Dragonstorm payoff for the trouble.
It is certainly a lot of fun to get to put so many dragons on the board!
Typically, I don't build decks from the top down like I did with Tiamat. I generally start with lots of interactive cards, but that wasn't what Lord Tiamat wanted in order to reach its potential. It morphed from a Battle Cruiser list into a pure Combo deck as I continued to tune and play it because I found that gave the deck the best chance to win a multiplayer game.
The takeaways I learned from building this deck:
1. It's super fun to crack an Awesome foil and build a deck around it.
2. Expensive CMC Commanders perform well with Mana Engine decks.
3. Morophon provides a way to chain a bunch of Dragons together and so I built around that core interaction.
Here's an example of a hand I played that wins on turn five using just the cards in the opening hand to achieve the conditions of victory.
We start off with a Krosan Verge:
Turn three cast Kodama's Reach:
Turn four we cast Heartbeat of Spring and use the extra mana it generates to active Krosan Verge:
On Turn Five we cast Turnabout floating **WWUURRBBGG and cast Tiamat searching for Morophon, Miirym, Terror of the Peaks, Niv-Mizzet Reborn, and Scion of the Ur-Dragon and cast them in that order. We are then able to use Scion of the Ur-Dragon to tutor up Beledross Witherbloom to untap all our lands again, then tutor up Earthquake Dragon and return it to our hand by sacrificing a land, and lastly the coupe de grace is using Scion Token to tutor up Karrthus to give the squad haste!
And that is the Tiamat, The Dragonstorm experience!