Welcome back to another Bryan's Brews. This time we brewed up a GRINDY one. If this is your style of Magic or you're looking to get into Pioneer from Standard, I suggest you stick around for a bit and see what we have in store for you today.
This time around, rather than looking at a deck from the distant past and emulating it, I decided to look at Standard. I was watching the RCQ a couple weeks ago and I saw the Mono White Midrange deck and I fell in love. So naturally, I ported it to Pioneer.
So let's start by talking about the things that I liked about that deck. The groundwork was laid down with Ambitious Farmhand, Reckoner Bankbuster, Steel Seraph, The Wandering Emperor, and The Restoration of Eiganjo. All of these cards worked very well together.
These pieces are how I wanted to start my deck. The synergies with Steel Seraph and Reckoner Bankbuster are incredible. Giving the Bankbuster Vigilance and still being able to activate to draw a card. Also helps in racing situations that you can give it Life Link to change the combat math. All of this also happens on curve!
The Ambitious Farmhand and The Restoration of Eiganjo both get you lands to make sure you always play one every turn but also, being able to pitch the Farmhand to Restoration and immediately get it into play without spending mana is really nice.
So from here, all we needed to do was fill out the rest of the deck. What cards could we play that make this deck strong enough for Pioneer?
Well, let's start by looking at the 1 drop slot. There were really only a few creatures that I looked at for this slot and maybe a couple of other spells.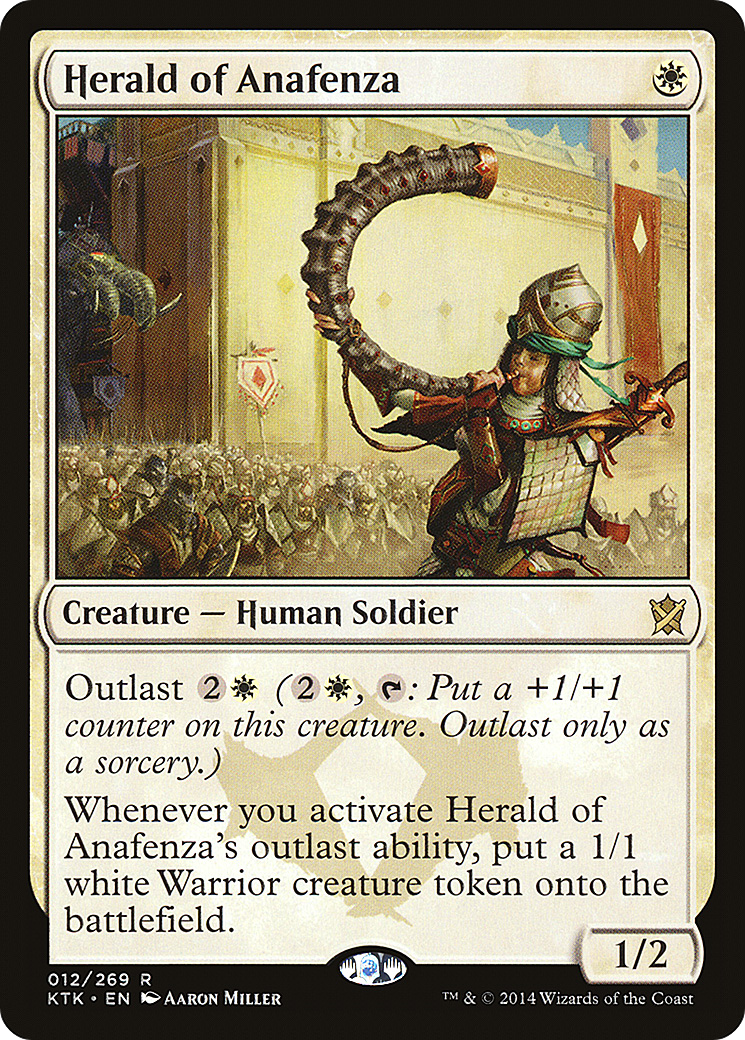 First creature I looked at was Herald of Anafenza. 1 mana 1/2, adds counters, and creates 1/1's. This card was a solid idea but ultimately, our mana is already taxed up and down the curve so I moved on.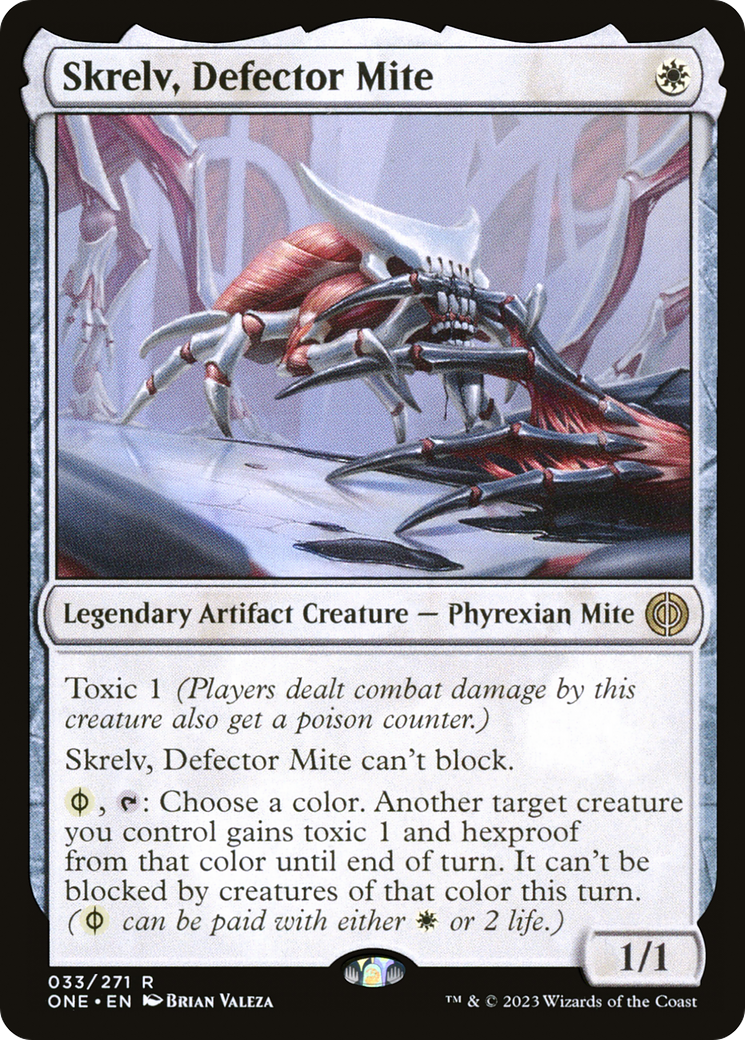 The second creature I looked at was Skrelv, Defector Mite. Protecting our other creatures, pushing damage, or drawing out removal spells is decent. The card was just a little lackluster though because it was only a 1/1 and doesn't do much on its own.
The last card being Thraben Inspector. 1 mana 1/2 that creates a Clue. This is almost exactly what I am looking for. Generates value that we can use later in the game if our hand gets empty and we need more stuff to do. This is what I picked. However, I could see this going another direction too.
At 2 mana slot, I feel like our threats are decent enough here so I left this alone.
Moving on up to the 3 mana slot though, we had to make some decisions.
Initially I started with Elite Spellbinder but quickly realized that I needed some removal. Insert Skyclave Apparition. This helped me get the extra removal that I wanted while also adding a threat and a different power/toughness at 2/2 that helped flip our Ambitious Farmhands.
The 4 mana slot has a ton of options but we only have 4 spots open. I decided to stick with The Wandering Emperor and Serra Paragon just like the Standard version. I felt that these cards generated enough value that they were worth it. The Emperor also acts as another removal for us if we need it.
The 5 mana slot was interesting. Initially I had 2 Invoke justice but the more I thought about it, the more Skysoveriegn, Consul Flagship made sense. This card crews for 3 and can sort of nuke something every turn it is in play. Alongside Steel Seraph, you can give it Life Link and shoot an opposing threat, attack, and then gain 9 life total for your efforts.
Invoke Justice is just a good card in really grindy matches. Buying back anything we want out of the yard and distributing those counters can be back breaking for our opponents.
In the 6 mana slot, we get access to all of Pioneer's best threats in White. For me though, the best threat is Elspeth, Sun's Champion.
This. Walker. Wins. Games.
Virtually every creature in our deck is 3 power or less unless a vehicle was activated or a Steel Seraph has been hard cast. Allowing Elspeth to come down and -3 immediately and deal with problematic threats without affecting our creatures. We could obviously +1 every turn and just run away with the game too.
Now for the last spots in the deck. The removal spells. I am really happy with the selections I made for our removal slots. They could be improved but I think ultimately, that will have to wait until better cards are printed.
I started out with 4 Lay Down Arms and 4 Ossification. I quickly realized after my first week of playing the deck that we REALLY need to interact at instant speed a little better.
So after that first week of literally dying to Creativity because I had no interaction for the combo, I made some changes. I went to 2 Lay Down Arms, 3 Fateful Absence, 4 Ossification, and 3 Skyclave Apparition. These numbers could be played with a little bit but I was really happy with it.
Lastly, let's talk briefly about the land situation. Super easy here. 13 plains, 4 Roadside Reliquary, 2 Field of Ruin, 1 Eiganjo, Seat of the Empire, and 1 Castle Ardenvale.
Pretty simple here. Need lots of plains with all of the Farmhand and Restoration fetching. Roadside is single handedly the best land in the deck and oftentimes draws you 2 cards to keep filling your hand, buying it back with Restoration or Paragon and then doing it again.
I want to talk about the Sideboard a bit but I think all of my options are up for debate and you could select just about anything you think works best for your metagame. White has some of the most powerful sideboard cards available in its colors. Choose what you think works best.
I will leave my sideboard notes at the end of the article for those who would like to play the deck as is.
I found that the main deck had lots of synergies. Pitching smaller creatures, lands, or Ossifications to Restoration's second chapter and immediately getting them back into play felt really strong.
All of the creatures being smaller than 4 power, allowing Elspeth to -3 immediately and have almost zero effect on our board and sometimes decimate our opponents board.
A lot of the removal spells simply just dealing with Planeswalkers is amazing for 2 mana.
And lastly, my favorite part of this deck. 21 lands and topping out at 6 mana spells is hilarious to me. We are able to jam so many cards into our deck without sacrificing anything. Fetching the lands with Restoration and Farmhand thins our deck to allow us to draw more spells. Also being able to ramp with Restoration is kind of awesome!
All in all, I don't think this deck is "the best deck" in the format. I don't think it's the worst deck in the format either. This deck just grinds. I was able to keep pace in card count with my control opponent. I know that doesn't sound like a big deal but It made a huge difference.
Never losing to card advantage and never feeling like I was completely out of the game while also being able to constantly and consistently pressure my opponent was amazing.
Against other midrange decks, I feel like we can out muscle them with card advantage and card quantity. The quality of our cards is pretty low individually but collectively they puit in work.
Aggro Matches, we have lots of "throw away creatures" until we can stabilize in the mid game and eventually take control of the board. Steel Seraph and Reckoner Bankbuster are basically a combo in these matches.
If you like grinding or want to take your first steps into Pioneer, I'd suggest giving this a shot. The deck is cheap. I think this entire deck could be built for less than $300 and be competitive in the format. No shock lands required here.
It also feels like the deck could be customized for your own liking. Elspeth, Sun's Champion is not necessary, Invoke could be +/- 1 and could be replaced with anything else. The Wandering Emperor could be swapped out with any other 4 mana card that you feel works better in that slot. And your removal spells could be swapped around.
I think as long as the core of the deck stays the same, the deck is pretty "Go Go Gadgety" and could be altered to your liking/budget and still be viable. I'm considering adding a little bit more Artifact / Enchantment hate to the Sideboard, but I'm generally happy with the board as is right now. Today we'll end with a basic sideboard guide to some of the key Pioneer match ups:
-2 elspeth, sun's champion
-2 elspeth, sun's champion
-2 elspeth, sun's champion
As always – Stay Brewtiful!